This post may contain affiliate links to help the reader find relevant products. We get commissions for purchases made through links.
Updated October 2020 to remain up to date and accurate.
I receive many questions about how to make olive oil at home. So I have decided to perform a DIY experiment at home and show the results of the olive oil production process at-home environment.
Here I will share with you the olive oil extraction process step by step using kitchen tools and give you useful tips on how to make olive oil at home which is one of the best olive oils in the world. Without further ado, let us, deep-dive, into your own olive oil-making process.
1. Get Ingredients for Making Olive Oil
The great thing about this process, you need only 2 ingredients to make olive oil at home! Yes, that's right – all you need is fresh ripen olives and room temperature water.
For this experiment we will use:
1 kg (2.2 lbs) of fresh olives ( I am going to use Kalamata olives)
½ cup or around 80 ml of room temperature (25C) filtered water
2. Prepare Your Kitchen Tools
Great news, you don't need any fancy kitchen tools for oil processing in your kitchen. The most important is an olive pitter and a blender or mixer. Thus, the rest of the kitchen appliances you can mix and match with what you already have in place.
As to make it faster and easier, I added links to products available on Amazon in case you are interested to make olive oil at home and are looking for the right tools:
Last update on 2023-02-01 / Affiliate links / Images from Amazon Product Advertising API
In a hurry? Check out our video on how to make olive oil at home here and let us know if you do have any questions!
3. Olives Preparation 
1. Get Raw Fresh Olives 
In my experiment, I will use raw fresh ripe Kalamata olives which are a dark brown color for this process. Please bear in mind olives can be ripe or unripe.
However, olive oil made from ripe olives has more health benefits comparing to green unripe olives. Consequently, olive oil from ripe olives keeps higher properties in nutrition and vitamins. No difference in taste though, just ripe olives produce golden-green oil.
Of course, you can use other Mediterranean countries' olives, but Kalamata olives are known due to their high level of nutrition and vitamins.
2. Wash Olives Very Well
Prior to using olives, wash them very thoroughly with cool water. Pick out any leaves, twigs, or other debris mixed in the fruit. After washing olives, leave them to drain in a colander or on a paper towel.
Thus, the olives don't need to be perfectly dry since we are going to mash them and any water will eventually separate from oil during processing.
3. Pit Washed Olives
Use specialized kitchen tools to pit olives. It takes at least 40 minutes to pit each olive (for 1 kg batch) and get prepared for a pressing olive oil step.
In case you don't have an olive pitter tool in your kitchen as per the image, you can try a knife but be very careful. And, it would take much longer to prepare seedless olives.
4. Crushing and Pressing Olives
1. Crush Olives in Large Chunks
After you pit olives put them in a blender glass or in a mixer. Blend them few seconds into large chunks to fit all of them in one blender glass.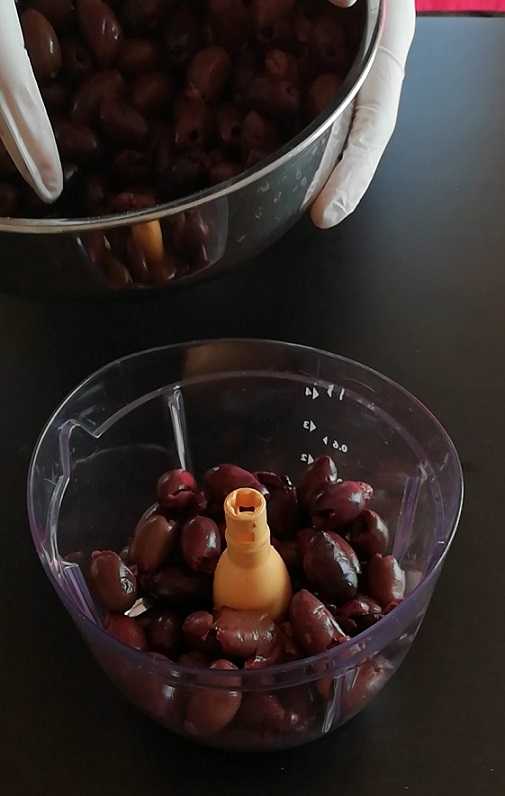 2. Add 1/2 Cup of Warm Water
As to facilitate the smooth upcoming blending process, add half of the cup water into the blender.  For this reason, we use room temperature water (a bit of warm water is even better) cause it helps to release more oil from the paste.
Use a high speed blending for 10-15 minutes mash olives into a thick, brown olive paste.
3. Mash Olives into a Brown Paste
The mashed olive paste should have a slightly shiny coating over its surface. This shine is olive oil. In fact, the olive crushing process breaks apart the flesh of the olives, thereby releasing the fruit oil contained within the cells.
As a result, small oil droplets join together to form larger drops of olive oil and this is how we get freshly homemade olive oil.
5. Extract Olive Oil by Using Hands
1. Use a Cheesecloth to Extract Liquids
For extracting olive oil, first set a mesh strainer over the straining vessel or the container that you plan to strain the liquid into.  As well, use a cheesecloth nearly twice as large as the mouth of the strainer.
If you don't have a cheesecloth, you can use substitutes – a linen cloth, paper towel, or coffee filter. Cover the top of the strainer with a cheesecloth and pour the mashed olive paste, including all visible liquid and solids. Pour it directly to the center of the cheesecloth and wrap up the sides of the cheesecloth over the mashed olive paste, creating a secure bundle.
2. Extract Liquids by Using Your Hands
Press down the bundle with your hands to help the extraction process and let the liquid drain. Then press it as long as there is liquid in the bundle.
Let the olive oil, olive juice, and water drain through the cheesecloth and the strainer for around 10minutes depending on how big your bundle is.
3. Transfer Liquids in a Separate Dish
Once the liquids are drained through a strainer into a bowl, transfer it into a separate glass or tall see-through container.
Due to the gravity and different densities in olive oil, olive juice, and water, all liquids naturally separate off into their own distinct layer. The olive oil layer should rise to the top of the glass. Importantly, keep the liquids to rest for a couple of hours to rest and separate from each other.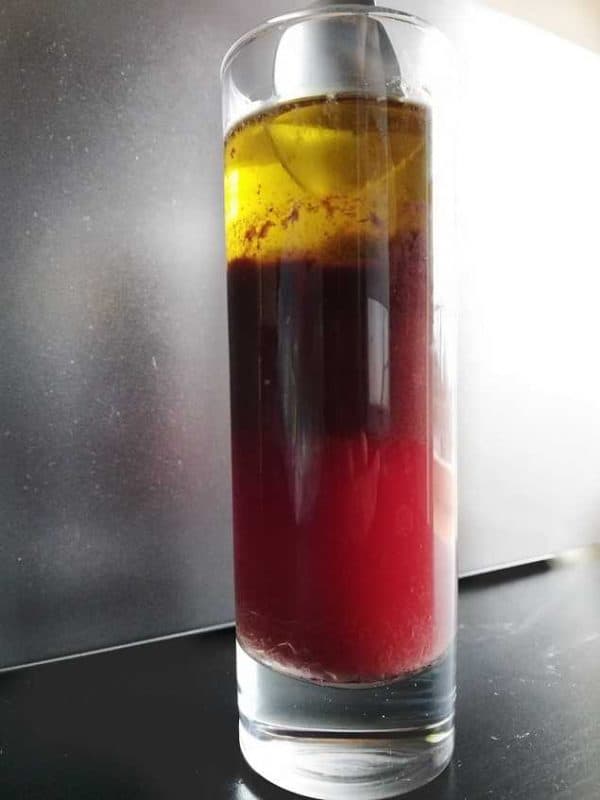 6. Enjoy Your Homemade Olive Oil
Well done if you get up until this step! That's almost it – the last thing, but not least – use a spoon to take off the freshly extracted olive oil from the top of the glass and transfer it to a separate dish.
In fact, use a dark glass bottle with a solid cork or lid. Ideally, store it in a dark cool place – avoid the sun rays. Well done!  Now you can use and taste your freshly homemade olive oil!
Since your made olive oil so fresh that you can proudly use it straight away for:
7. DIY Olive Oil Making Experiment Results
Pros
High-quality olive oil
Overall, by squeezing olives yourself, and using only kitchen tools and room temperature water, the results are rewarding.  Importantly, the olive oil made at home is unfiltered, fresh, clean, and high quality. Literally, you get extra virgin olive oil if olives are raw, just picked from the tree!
Educative process
For instance, extracting olive oil at the home process can be a great example for your kids to show how you get a golden oil liquid from the olive fruit. As well, to demonstrate how the different density liquids are separated off from each other. Altogether, it might be a fun and playful process, with some lab elements :)
Cons
Freshly harvested olives only
Certainly, you can make olive oil at home only from freshly picked olives. Unfortunately, canned or processed olives won't do a job. Ideally, you should use olives for squeezing an olive oil the same day olives were picked from the tree. Hence, you can wait for a few days, but the longer you wait to produce the oil the less flavor and quality of oil you will get.
Time-consuming and labor-intensive process.
Overall, the olive oil extraction process at home took around 2 hours. As well, we used around 1kg olives to make 70ml of olive oil.
So much expensive – do your maths!
If you don't have your own olive groves, you will need to find a farm and buy raw just picked olives. For example, in Greece, we pay around 6 EUR(~7 USD) for 1kg Kalamata olives and we squeeze around 70ml olive oil.
So to get 500ml of pure olive oil, we need to buy approx 7kg olives and pay 43EUR (~49 USD)! However, if you buy already branded and bottled premium quality olive oil from a respective producer, you can get it for a price of 20 EUR (~23 USD).
By looking into maths it's too expensive to make olive oil at home. Because, you can get twice as much great quality olive oil for the same price you pay for raw olives and, as well, you save so much time.
Small quantity of olive oil
On the whole, you can only make a small quantity of olive oil while using your kitchen tools. There as producing a large volume of olive oil for commercial or your own reasons, it requires special machinery and market know-how.
Generic FAQs
Can you make olive oil at home?
Yes, you can make your own olive oil at home by using fresh raw olive fruits, ideally just picked from the olive tree. After you remove pits and squeeze the pulp, you get extra virgin olive oil made at home.
How many olives make an oil?
You need 6 -7 kg of fresh raw olives to make 1 liter of pure olive oil. It may vary depending on the olive variety.
How did they make olive oil in ancient times?
In ancient times the olive oil-making process was very similar as we make today at home. Firstly, olives were harvested by hand or by beating the fruit off the trees. Then, the olives were washed and crushed to remove pits. The remaining pulp was put into knitted bags which were then pressed. People poured hot water over the pressed bags to wash out any remaining oil.
The liquid was collected and left to settle and separate the olive oil where it was settling on the surface. Then the olive oil was skimmed off by hand or other convenient tools.
How do you crush olive pits?
You can crush olive pits by using a knife or meat pounder. Place olives on a flat surface, ideally, cutting board, and gently crush them. You can use a garlic press to crush olive pits and separate them from the pulp. However, for olive oil-making purposes, you use olive pitter to separate the pit from the pulp.
How long does homemade infused olive oil last?
Homemade infused olive oil will last about a month if refrigerated. Otherwise, keep DIY-infused olive oil at a home temperature only for a week.
Can olive oil go bad?
Yes, olive oil can go rancid after 2 years from the time it is bottled. Most recommended using olive oil within 2 months once it is opened to use most of the nutrition benefits.
Conclusion on How to Make Olive Oil at Home
In summary, we illustrated and guided how to make olive oil at home using raw freshly picked Greek Kalamata olives and kitchen tools. Indeed, it is a nice way to get pure unfiltered olive oil at home if you can get raw fresh olives just picked from olive trees without big efforts.
However, for a large olive oil consumption on a regular basis, it is much easier to get the olive oil cold-extracted by small local farms. For example, per the statistical average, a Greek person consumes 12 kg (26 pounds) olive oil per year, so imagine how much time and energy it would require to make olive oil at home :)
Other than that, always try to make your own olive oil at home, and leave us a comment to let us know the results. Tell us how did you enjoy throughout the process and enjoy your own fresh olive oil pressed at home!
Local Greek Farm Produced Olive Oil
If you prefer to save your time and energy for your own hobbies and interests, we recommend trying our family 100% unfiltered, pure Greek extra virgin olive oil made from Kalamata olives.
Read Next
Oliviada Olive Oil Extraction Process – First Cold Pressing
Learn More