This post may contain affiliate links to help the reader find relevant products. We get commissions for purchases made through links. Thanks
Kalamata olives named as a new "superfood" is a fairly new term referring to foods that offer maximum nutritional benefits for minimal calories.
Kalamata olives are packed with healthful fats, vitamins, minerals, and antioxidants. No standard rules or legally defined criteria that classify any food as a superfood at this time. However, most superfoods are plant-based and Kalamata olives are one of them.
In this post, I will define why we can qualify Kalamata olives as a superfood, provide some great facts and inform you what are the health benefits and why it is important to eat Kalamata olives on daily basis.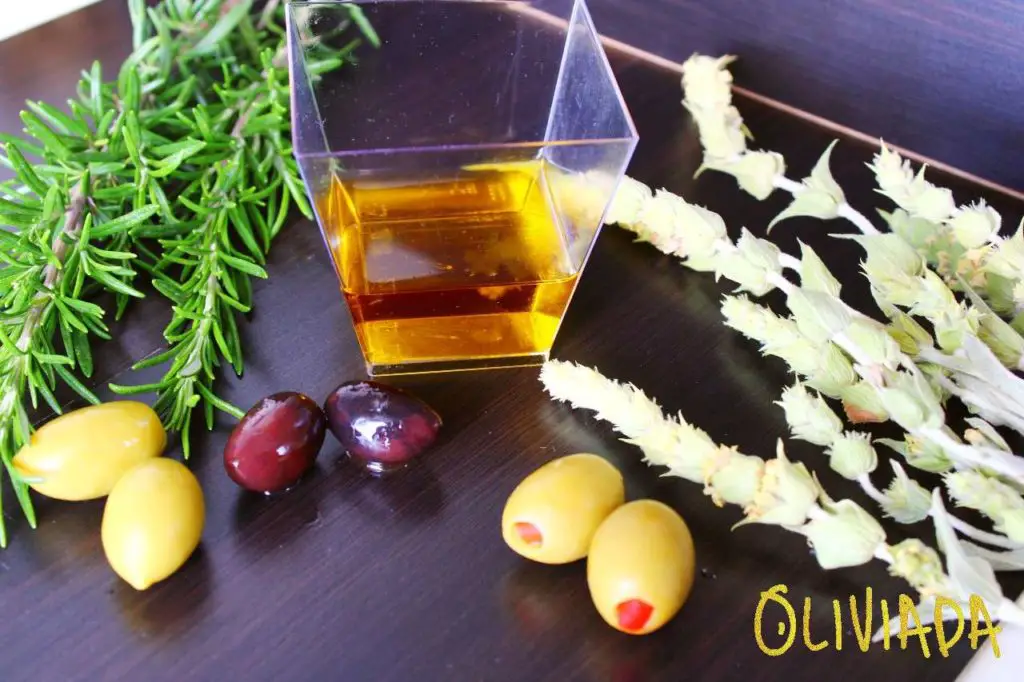 Why it is Important to Eat Kalamata Olives Daily?
We often use Kalamata olives just as a snack with a glass of wine, but if we knew why they are so good for the human body, we would eat them daily.
The late 20th century studies show that the Mediterranean population is less likely to have diseases such as degenerative, cardiovascular, and some organ cancers. People live longer, more energetic, and with excellent health. They consume lots of fruits and legumes in their daily diet which is named the Mediterranean Diet.
So Greek olives and olive oil are an essential part of life on the Mediterranean coast because of their beneficial substances. Take a great example from Greeks and live longer and better quality lives!
How to Choose Which Olives to Buy?
These days there is a large selection of olives to buy: green, black, pitted, stuffed with salmon, shrimp, and so on.
When choosing olives to buy, it is important to make sure that it is a bio and processed naturally. Also, it is worth considering the country of origin – the olives from Greece are the most appreciated and popular since the Greeks were the first to start growing and consuming olives, they have the longest cultivation history, and their olives have the best taste!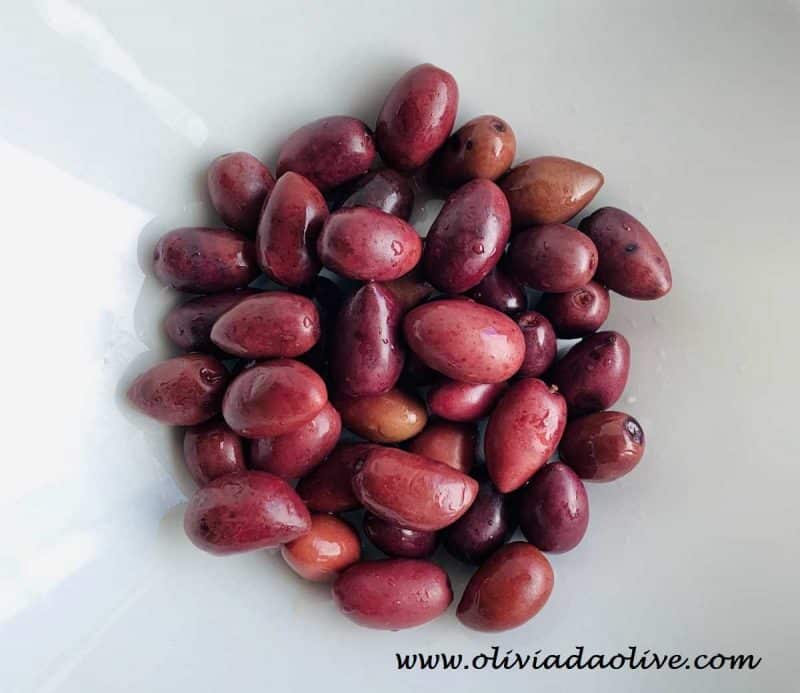 Greek Kalamata PDO olives are particularly valuable olives. They are one of the most famous and valuable olives not only in Greece but across the world. Kalamata olives have a unique almond-like shape, a dark purple husk color, and a strong, rich taste.
Is there a Difference Between Green and Black Kalamata Olives?
Speaking about the color of the olives: the most common are green and dark burgundy olives in the Greece region.
Black and green olives are often thought to be two different species. It is important to note that it is the same type of fruit, but the difference is just the degree of ripeness. The green ones are not yet fully ripe, so the darker the olives, the greater the degree of ripeness.
Also, there is a difference in taste where green olives are extremely bitter, though blackish color olives taste milder and more balanced. Black olives – a great snack with the white wine, green olives match more with the red wine.
Are Kalamata Olives Naturally Black?
It is also worth knowing that there is no black olive. That's right – most black olives in supermarkets are dyed olives! The iron sulfate is used most commonly to dye olives in black. The famous Kalamata olives are not black – they are dark burgundy, dark purple or brown-purple when fully ripe.
Kalamata Olives Nutrition Value
Kalamata olives nutrition value is 77 kcal per 1 portion (30g):
| Average nutrition value: | 100g | *Recommended daily value for adults | 1 portion (30g)   | %* of daily value |
| --- | --- | --- | --- | --- |
| Energy (kilocalories) | 1060 kJ (254 kcal) | 8400 kJ (2000 kcal) | 320 kJ (77kcal) | 4% |
| Healthy fat (lipids) | 27 g | 70 g | 8.1 g | 12% |
|  – of which fatty acids | 3.5 g | 20 g | 1.1 g | 6% |
| Carbohydrates | 0 g | 260 g | 0 g | 0% |
| Dietary fiber | 3.5 g |   | 1.1 g | |
| Protein | 2 g | 50 g | 0.6 g | 1% |
| Salt | 4.0 g | 6 g | 1.2 g | 20% |
Table 1: Kalamata olives calories and nutritional value
Are Kalamata Olives Good for You?
Find more about Kalamata olives health benefits
The health specialists claim that Greek Kalamata olive fruits contain all the necessary oleic acid fat, vitamins, and minerals for the human body. The most valuable part of olives is fat. Olives contain between 50 and 80 percent healthy fat, depending on the olive type. They also contain high protein levels, mineral salts, vitamins, and sugar.
Olives are rich in vitamins: A, B, C, D, E, K. Their rejuvenating effect is based on antioxidant properties. People are often deficient in vitamins D and B12, so consuming at least 4-5 olives daily can increase your vitamin reserves.
If your organism lacks vitamin A, it may affect your vision, it weakens your immunity, you get cold much easier, you may have skin problems or various rashes. Vitamin B deficiency affects cardiovascular disease, sleep quality, stomach and liver problems. No doubt, you can consider that Kalamata olives are superfood.
Why it is Good to Eat Kalamata Olives? 
It is worth eating Kalamata olives not only because of the lack of vitamins, but also:
If you have a headache, you can eat olives instead of tablets (Olive fatty acids act as pain relievers, anti-inflammatory drugs)
To fight overweight or obesity due to a high level of vitamin E – a natural antioxidant (The daily fat intake should not exceed 30% of the diet, half of the daily fat intake should come from olives and good quality olive oil)
To treat cardiovascular disease (Olives are full of antioxidants and flavonoids which reduce vascular wall damage)
Don't forget to consume Kalamata olives daily: use them in salads, serve as a garnish, eat alone as a snack or with bread, sandwich, pizza topping, spreads, and sauces.  
Organic Kalamata olives come from the sunniest Peloponnese region, Greece. You can contact us and choose between unripe green or ripe dark Kalamata olives. Taste – just perfect!
As well, the benefits of Kalamata olives come through olive oil. It has a positive effect on many organs and systems of the body: it strengthens immunity, purifies the blood, stimulates digestion, heals wounds, delays skin aging.
Olive oil is recommended for the prevention of diseases of the liver, stomach, intestines, and atherosclerosis. Both olives and their oils contain squalene, a substance that protects against cancer.
Marinated Kalamata Olives
To reveal the best taste of Kalamata olives, season them with various spices and fillings. But remember that you only have to choose natural products.
We advise you to choose oregano, garlic, thyme, rosemary, or paprika. Larger olives are delicious, stuffed with salmon, tuna, or cheese. Smaller ones are great for seasoning bread, pizza or salads.
The most popular marinate for Kalamata olives is a salty water (water and sea salt) and a bit of good quality olive oil.
Top 6 Olive Types – They All Come from Greece
Here are listed the top 6 olive types from Greece in terms of the popularity and the uniqueness in the taste and aroma.
| | |
| --- | --- |
| Kalamata olives | Kalamata olives are one of the most popular around the world Greek olives. Their shape is similar to almonds, the skin is shiny and the flesh is elastic. They are marinated in red wine vinegar with olive oil. As a result, it has a great taste and aroma. |
| Chalkidiki olives | Chalkidiki olives are the Greek largest green olives. They are invariably plump and meaty and offer a fruity, buttery and pleasantly sour flavor. Because of their large size, they are particularly suitable for stuffing sweet and chili peppers, feta cheese and so on. |
| Conservolea olives | Conservolea olives are round green olives from Greece. The flesh is juicy, tender, almost melting in the mouth. Marinated in a light marinade of the red wine vinegar and sea salt turns into dark purple color. |
| Megara-Nafplion olives | Megara-Nafplion olives are harvested in the eastern Peloponnese, Greece. They have a pungent aroma and have an unusual taste. They are marinated in red wine vinegar and sea salt. These olives are cut and pressed with a press prior to marinating. |
| Throumbes Thasos olives | Throumbes Thasos olives are harvested by the end of January after dried in the hot Greek sun and turn into dark black color. They are marinated in olive oil with oregano, so they have a special aroma and specific taste. |
| Gold olives | Gold olives are rare gigantic Greek olives. They have an elongated shape, crispy and juicy flesh and a unique fruity and spicy aroma and taste. |
Table 2: 6 most common Greek olive types
3 Kalamata Olives Recipes – Quick & Easy!
1. Quick Kalamata olives savory dip
Ingredients you will need
Kalamata olives 250g pitted, drained 
Extra-virgin olive oil 2 tbsp
Lemon juice 2 tbsp freshly squeezed
Garlic glove 1
Salt, a pinch
Oregano, a pinch
How to prepare it?
Create a quick Kalamata olives tapenade by finely chopping pitted olives and a little garlic. Process until smooth, add salt and oregano and other seasonings to your taste. Then add olive oil to loosen and lemon juice to taste. That's it! Enjoy the amazing taste!
2. Kalamata olives crispy bruschetta
Ingredients you will need
Kalamata olives 250g pitted, drained 
Cherry tomatoes 250g
Ciabatta 1 sliced
Garlic glove 1
Extra-virgin olive oil for seasoning
Peppery rocket leaves 1 handful
Salt, a pinch
Oregano, a pinch
How to prepare it?
For a summery delicious bruschetta, crush or slice into small pieces Kalamata olives and cherry tomatoes. Then spread onto toasted ciabatta rubbed with garlic. Top with peppery rocket leaves, drizzle with olive oil, and season by adding pepper, salt and oregano.
3. Kalamata olives with pickled lemon and fennel
This Kalamata olives recipe makes a quick but impressive snack to serve with drinks or as an appetizer. Heating Kalamata olives makes them absorb more flavor without having to marinate them for ages.
Ingredients you will need
Kalamata olives 500g drained 
Extra-virgin olive oil 2 tbsp
Lemon juice 2 tbsp freshly squeezed
Preserved lemon 1, halved, seeds and flesh scooped out and discarded, rind finely diced
Fennel seeds 2 tsp
How to make it?
Put everything in a pan and warm gently for about 5 minutes. Or use a microwave and warm it on high for 2,5 minutes, stirring halfway. Serve Kalamata olives into bowls and ideally eat straight away, while still warm.
Final thoughts
In summary, Kalamata olives are a new superfood that has a very high nutritional density. This means that they provide a substantial amount of nutrients and a moderated amount of calories. They contain a high volume of vitamins, minerals, and antioxidants.
You can pick Kalamata olives depending on your taste, if you prefer some prudent taste and firm texture, try green olives. In case, you prefer mild and balanced taste with soft texture, get mature dark brown or purple olives.
And don't forget to include Kalamata olives in your diet, learn how to prepare and marinate them to keep your meals more interesting and flavorful!
ALWAYS REMEMBER: 5 OLIVES PER DAY, KEEP DOCTOR AWAY!
Read Next
ARE STUFFED OLIVES GOOD FOR YOU?
Learn More