Updated August 2020 to remain up to date and accurate.
Without a doubt, it's not a secret that Greek olive oil is recognized as the best olive oil worldwide 2020. Or at least Greek regions producing olive oil are considered harvesting one of the best olives worldwide.
Another one of the most interesting facts is that Greeks eat more olive oil in Greece than any other nation in the world.  Also, Greeks take the 3rd place among olive oil producers worldwide.
Important to point out, that around 80% of Greek Olive Oil production is an Extra Virgin.  It is considerably higher than Italy which is approximately 67 % and Spain which is around 34 %.
It should be noted, the Greek Koroneiki olive variety, the most commonly used for olive oil, is robust and full of flavor. Koroneiki olives were traditionally cultivated in the Peloponnese region in Greece for more than 10 centuries.
On the whole, Greeks' historical, cultural, and economical attachment with olive trees and olive oil is deeper than any other nation.  So let's go through the useful facts to imagine the extent of Greek olive oil production & export.
2019 Olive Oil Production Year in Europe
Spain – 1,599k tons
Italy – 265k tons
Greece – 225k tons
Portugal – 115k tons
France – 6k tons
*Source: Olive Oil Times
P.D.O. Kalamata is the Best Olive Oil Worldwide 2020 – what is P.D.O. Olive Oil?
The sunniest region of Kalamata is located in the southern Peloponnese, in Greece. Along with it, Kalamata is classified P.D.O. – Protected Designation of Origin – by the European Union (EU) regulation (EC) No 510/2006.
According to the EU regulations, the P.D.O. products must be grown and produced in a specific region using traditional production methods. It's all about unique quality and special characteristics, linked to the climate, the nature of the soil and local know-how.
As much as EU P.D.O. symbol guarantees the superior quality and integrity of the product, the Kalamata region guarantees the best extra virgin olive oil in the world 2020. Kalamata olive oil is produced from the small fresh, green "Koroneiki" olives with thick skin and flesh ration which contributes to the aroma, high antioxidant content and green color. As a result, the olive oil produced from Koroneiki olives has a very fruity, mild and balanced flavor. Only the original Greek climate and terroir can bear genuine Koroneiki Kalamata olive fruit.
Oliviada Premium Extra Virgin Olive Oil is one of the best P.D.O. Kalamata Olive Oils in 2020
Oliviada is a Greek family-owned business initiated by the 3rd generation family member Vangelis Kleftogiannis in 2017. Kleftogianni's olive groves located in Kalamata, the beautiful Peloponnese peninsula in the very south of Greece. Each year family handpicks small green 'Koroneiki' olives and squeeze pure olive juice. The end product is Oliviada Kalamata premium extra virgin olive oil – 100% unfiltered, unblended,  first cold-pressed olive oil and classified P.D.O. Kalamata olive oil. Acidity is 0.26% which confirms the premium extra virgin olive oil quality. 
The high-quality Greek Kalamata extra virgin olive oil is produced from hand-picked green 'Koroneiki' olives using a cold-pressed extraction method in low temperatures. Consequently, the Oliviada premium extra virgin olive oil has a rich delicate aroma of fruits, with a well-balanced fruity flavor and a golden-green color.
Its distinctive taste allows the oil to be used in countless meals to complement its flavor. Nutritious and rich even when cooked, Oliviada premium extra virgin olive oil brings a delicious taste to your plate. Also, it is perfect as a marinade base or a salad dressing oil. Oliviada olive oil versatility is mainly due to low levels of acidity which also means that it is much lighter dressing for salads and is much more subtle overall.
———————————————————————-
Oliviada Olive Tree Adoption is one of the most amazing ways in which you can help in nurturing the olive tree. And, in return, to receive Oliviada Kalamata Premium quality olive oil:
Greek Regions producing one of the Best Olive Oil Worldwide 2019 / 2020
Due to the growing popularity of Protected Designation of Origin oils (short name P.D.O.), there are now 17 P.D.O. regions in Greece. Greece has hundreds of olive varieties and types, usually named after the areas in which they are grown. Every region's fruit is affected by the geomorphology of its location and produces olive oil with distinct characteristics. There are more than 120 million olive trees that grow mainly on hilly land with the most of olive trees growing in the Peloponnese areas: Messinia and Ilia, in island Crete: Iraklion and Chania and Corfu in the Ionian Islands.
1. Peloponnese – Messinia (KALAMATA) & Ilia
The beautiful Peloponnese mountainous region is the best known for its extra virgin olive oil.  Over Mount Taigetos, the area of Lakonia with its capital of Sparta offers 3 distinctive types of PDO oils. Here the variety of Koroneiki olives is mixed with Athinolia olives giving the lighter oil with more citrus and nutty tones. The eastern Peloponnese area of Lygourio and Kranidi produces sweeter oils due to the dominant presence of the Manaki olives variety.
Messinia – Kalamata
Ancient Greek tragedian Euripides called Messinia "the land of the good fruit" for its natural beauty and its fertile rich earth. Messinia, the land of the Olive Tree and of the Olive Oil, yields the world-famous Kalamata olives and produces Kalamata olive oil. This olive oil is 100% pure and natural fruit juice of the highest quality and of unique nutritional value. For this reason, Kalamata olive oil has been ranked in the category of Extra Virgin Olive Oil after a series of chemical analyses.
The sacred olive tree has been cultivated in Messinia since the 12th century BC. Archaeological excavations in the palace of Nestor, the ancient king of Messinia, have brought to light evidence that shows the massive importance of the juice of the olive tree for the society of the time.
All of Messinia's land is an enormous olive grove. Favorable climate, all year round sunshine allows each grower to take loving care of each olive tree. And to pick the olive fruit when it is mature enough yet not too mature with the superior quality and delicious taste.
The majority of farms and olive presses are managed by local Greeks who have a deep knowledge of olive oil production. And keeps secrets shared from one generation to another which leads to the creation of superior olive oil.
2. Crete – Iraklion & Chania
The ancient land of Crete island is home to 30 million olive trees. The Cretans make full use of the olive fruit and have long agriculture history since 3500 BC during the early Minoan period. Even the Minoan palace of Knossos has a historic olive press room.
Crete island is all about the olive grove and knowledge in olive oil. The massiveness of the island groves led naturally to the instant registration of 9 P.D.O. regions for one island. The Koroneiki olive variety dominates here. But other local varieties such as Tsounati, Throumbalia, and Hondrolia are found as well, which account for the discrete flavor of each individual region.
Crete olive oil is up to 90% extra virgin olive oil (EVOO) and is very well known among olive oil lovers. Today the Cretans still eat far more olive oil than any other people in the world with a prove that Cretans are the healthiest and longest-living people.
3. The Ionian Islands – Corfu
Corfu is Greece's northernmost Ionian island is known worldwide for its top-quality olive oil. There are over 4 million olive trees on the island which cover the greater part of the island. Some of which are 500 years old. It was Venetians who imposed the single crop, offering a substantial amount of money for the planting of olive samplings. Over the four hundred years of the Venetians' presence, the Corfiots planted and cultivated olive trees, replacing the old trees with new vigorous olive groves that flourished in Corfu's lush climate. Because of Venetian rule to enforce paid planting olive trees, Corfu olive oil production prospered and became famous all over Greece. 
It is considerably greater rainfall compared to the rest of Greece. Thus provides the ideal micro-climate for the demanding Lianolia Olive brought in by the Venetians. The Lianolia olive variety, in particular, likes a high amount of ground and atmospheric moisture in the Corfu area. Such environmental conditions help to harvest its rich foliage and premium quality olives.
Greek Olive Types & Varieties
Koroneiki
Kalamata is a unique area in Greece as it generates some of the best greek extra virgin olive oil well known in the world. The primarily type of olive is Koroneiki mainly present in the southern Peloponnese and in some areas of Crete. The Koroneiki olives are protected by the P.D.O. and are used for oil and are ranked as the best in the world for their balanced taste and health benefits.
Koroneiki olives harvesting
The Koroneiki olives are relatively small size, however, their trees yield a high amount of fruits. The olives are harvested when they are still green in order to ensure the title of "early picked" or "green" olive oils. Normally the juice of the olives extracted when the fruit is young has the best quality of the oil. And it is great to prevent a heart and other diseases. The Koroneiki olives yield approximately 6 to 7 liters of the best Greek olive oil. The oil is golden-green in color and is highly applauded for its fruity and fresh flavor.
The Koroneiki olives are the most prized Greek olive variety for olive oil production harvesting in Messenia, the beautiful Peloponnese. Region. This olive variety grows well on mountain slopes and produces very small green fruit; the high ratio of skin to flesh giving the oil its coveted aromatic qualities. The Koroneiki olives variety is also suited to the production of agourelaio, oil from olives that are slightly unripe (young harvest). When crushed in presses that are not capable of grinding the stone, this oil is entirely free of acidity and possesses top-tier organoleptic characteristics. Because not crushing the stones reduces the oil yield, production of agourélaio is limited to "boutique" presses run by entrepreneurs and small cooperatives.
Kalamata olives
Kalamata olives named after the city of Kalamata in Messenia, southern Greece. The king of Greek table olives, beloved and popular Kalamata olives are deep purple, with tight, snappy, shiny skin, and pretty almond shape. They are typically well-preserved in olive oil and/or in red wine vinegar, red wine for a uniquely rich, smoky, fruity flavor. These olives are P.D.O. and protected under the European Protected Geographical Status scheme.
Black olives
Black olives are a typically Greek type of olive which has been allowed to fully ripen on the tree before harvesting. The distinctive characteristic which gives them the name "Greek" is the lack of lye in the de-bittering process. Black olives have a variety of colors: red-violet-black to purple and deep black. They have a fleshy and slightly fruity taste.
Green olives
Green olives come from varieties in Chalkidiki a region in Northern Greece. Their characteristic is large-sized berries, bright green-yellow color and slightly bitter taste while they lack in grassiness. They are harvested by hand from September to October. And after pitting they are re-evaluated in large tanks so that only the best berries will be served on the table.
Athenolia
Athenolia olive fruit has a medium-size olive shape is collected matured from the end of December until the beginning of January. When the Koroneiki and Athenolia olives are mixed together to acquire wonderful full-bodied, balanced, and flavorful extra virgin olive oil.
Chalkidiki olives
The Chalkidiki or Halkidiki olives grow exclusively in Greece in the Mount Athos region. They have an elongated and asymmetrical shape and their color ranges from bright to pale green. And they come in a large size, thus aptly naming them as donkey olives. They are harvested young and go through a curing process to remove the bitterness and make them soft and palatable. Chalkidiki olives are mostly stuffed with red peppers, garlic, gurken, or almonds.
Amfissa Olives
Amfissa olives are grown in Delphi or Evia region. Once hand-picked they are completely ripe after which they are slow brine-cured. Amfissa olives have a mild fruity aroma and a soft texture. That is why they are often served with stews, soups and strong cheese.
Konservolia Olives
Konservolia olives are another most popular olive variety devoured in Greece. These olives are spherical and are harvested green. Konservolia olives are later treated with salt. Thus giving them their most popular wrinkly form and purple or black color. Konservolia olives are produced in most parts of Greece and are protected by the P.D.O.
| Ladolia Olives |  Meagron Olives | Nafplion Olives | Patrinia Olives |  Thasitiki Olives |
| --- | --- | --- | --- | --- |
| Spherical-shaped olives and have a light golden-yellow color, with a light grassy herbal taste. | The green olives are cured, brine, and packaged for oil. Whereas the black ones are dry-cured in salt till they develop wrinkles. | These olives are hand-picked, cracked, and cured in brine to extract their nutty and slightly smoky-flavored oil. | Patrinia olives have a high oil concentrate of around 25%. This oil is known for its mild fruity flavor and aroma. | The Thasitiki olives are mostly black when matured and wrinkly form as table olives. |
Different Olive varieties or cultivars by the Country 
| Italy | Spain | Greece | France | California | Portugal | Croatia |
| --- | --- | --- | --- | --- | --- | --- |
| Frantoio, Leccino Pendolino, Moraiolo | Picual, Alberquina, Hojiblanca, Manzanilla de Jaén | Koroneiki | Picholine | Mission | Galega | Oblica and Leccino |
*The different varieties olives brings different oil in flavour and stability (shelf life).
Greece Olive Oil Exports
The majority of olive oil production Greece exports mainly to the European Union (EU) countries. Italy dominates in terms of olive oil exports from Greece, which receives about 75% of total exports. Further olives grown in the Peloponnese region bring 35% of Greek olive oil production, as well as in Crete, the Aegean Islands and the Ionian Islands.
Most importantly, about half of the annual Greek Olive Oil production is exported. But only some 5% of this reflects the origin of the bottled product.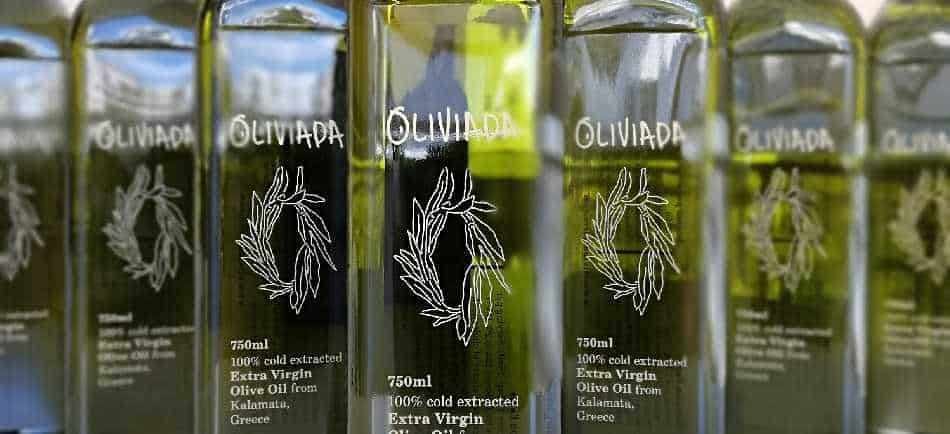 How to identify the Best Olive Oil Worldwide 2020 when buying?
I can give you the main tips on how to choose the best quality olive oil in 2020 among so many options in the olive oil market worldwide:
1. Choose a local small olive oil producer (family business)
Buy from local and artisanal olive oil makers who produce olive oil in a small batch to minimize the downsides of large-scale producers (i.e. blended olive oil, old or poor-quality olives, additives like canola oil, pesticides, etc.). It's always recommended buying a product from the source (avoiding middlemen or large scale producers). Cause the small businesses' main focus is on the quality and purity of olive oil and sustainability in production.
The Greek family business production is considered one of the best olive oil worldwide in 2020 and always keeps the highest quality. They use this product not by themselves but share with big family and friends.
2. If you choose a large scale producer, buy from a trustworthy source
Always look for their product certification, if olive oils with the Non-GMO Project and/or Certified Organic label. This is how you will increase chances that the raw materials will be of a higher quality and that you buy a good quality olive oil
3. Check the bottle labeling
The olive oil labeled EVOO – Extra virgin Olive Oil – means the highest grade olive oil
4. Look at the harvest date
It should be the latest harvest Olive Oil or with listed Expiration Date 
5. Examine the bottle type
The best olive oil worldwide is always bottled in dark-colored UV protected glass.  Consequently, a right glass bottle keeps light and chemicals found in plastic out of your oil. So never buy olive oil in plastic full of BPAs. 
Summarising all the above, P.D.O. Kalamata olive oil is one of the best olive oils worldwide in 2019 / 2020. As its title suggests, it is a Protected Destination of Origin olive oil, and this origin contributes to its popularity amongst local Greeks, and now the rest of the world.
If you want to give a great Greek taste to your meal, you should use one of the most popular P.D.O. Kalamata olive oil. It is pure high quality rich in nutrients Greek olive oil. Comparing to other olive oils taste, P.D.O. Kalamata olive oil has a full fruitiness flavor, with an aroma of green fruit, light bitterness, and light to medium pungency. As a result, P. D. O.  Kalamata is a perfect addition to any meal, whether it is a meat or pasta dish or a simple salad.
Overall, there are many scientifically proven health benefits in P.D.O. Kalamata olive oil. And the regular consumption of it may improve your own health and wellbeing!
Find out more about Greek Olives and Olive Oil
Kalamata Olives are the New Superfood
Kalamata Olive Oil Health Benefits
Greek Olive Oil Nutrition Facts and Calories
What is a Mediterranean Diet Menu?
Healthy Mediterranean Style Side Dishes