Traditional Mediterranean Dish Greek Moussaka is basically a hearty eggplant crockpot or casserole with a juicy, full of flavors meat sauce. Coating the meat is either a rich white Béchamel sauce – a French influence that was introduced later – or a cheese-based topping.
The variations in moussaka recipes go beyond the coating/topping. Some recipes even call for layers of other vegetables like zucchini, squash or bell peppers; but more commonly, a layer of thinly sliced potatoes and aubergines.
Greek Moussaka Ingredients (for 6 servings)
750g/1lb 10½oz minced meat (pork or beef or mix)
1 onion, finely chopped
2 garlic cloves, crushed
1 tsp dried oregano
1 bay leaf
1 tbsp plain flour
200ml/7fl oz red wine
400g tin chopped tomatoes
2 tbsp tomato purée
2 aubergines, cut into 0.5cm slices
1 tbsp fine sea salt, plus extra for seasoning
100ml/3½fl oz Greek Extra Virgin Olive Oil
500g/1lb 2oz potatoes, peeled and thinly sliced
freshly ground black pepper
For Moussaka white sauce
50g/2oz butter
50g/2oz plain flour
400ml/14fl oz milk
25g/1oz Parmesan, finely grated
1 free-range egg, beaten
Traditional Mediterranean Dish Greek Moussaka Preparation
Preparation time: 40min
Cooking time: 1.30 hour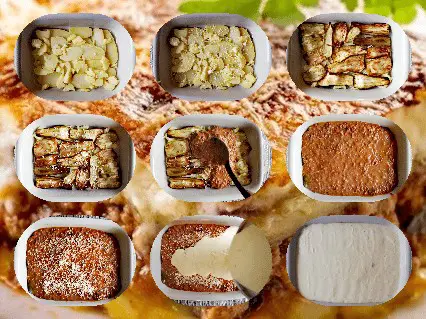 Put the minced meat, onion, garlic, oregano and bay leaves in a large heavy-based frying pan and cook over medium heat for 10 minutes, stirring with a wooden spoon to break up the meat.

Mix in the flour and a good pinch of salt and pepper.

Add the wine, tomatoes and tomato purée and bring to a simmer. Cook for 30 minutes, stirring irregularly until the minced meat is tender and the sauce has thickened. Taste and season with salt and pepper if needed. Set aside to rest.

In the meantime, place the aubergine slices in a colander or a plate and sprinkle with the tablespoon of salt. Set aside for 10 minutes.

Rinse the aubergine slices under cold running water and dry it up with a clean tea towel.

Heat 3 tablespoons of the oil in a large heavy-based frying pan and fry the aubergines for 2–3 minutes on each side, adding more oil when necessary. Remove from the pan and set aside to drain on kitchen paper.

Cook the potatoes in boiling water for 5 minutes, then drain in a colander under running water until cold.

Preheat the oven to 200C/180C Fan/Gas 6.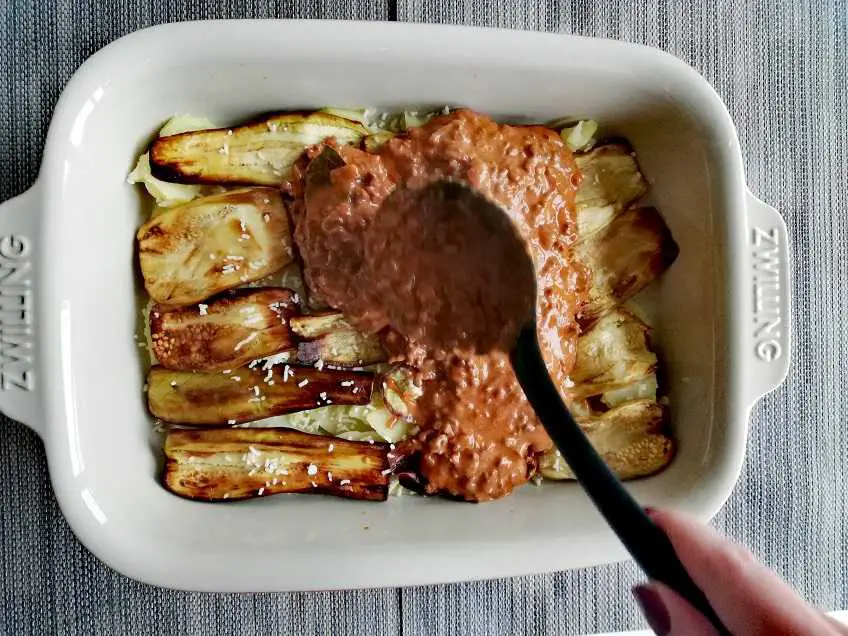 White Bechamel sauce:
To make the white sauce, melt the butter in a large saucepan and stir in the flour.

Cook for a few seconds, then gradually stir in the milk.

Add half the Parmesan. Simmer the sauce gently for 4–5 minutes, stirring regularly.

Season to taste with salt and pepper.

Remove the saucepan from the heat and allow the sauce to cool.

When cooled, stir in the egg.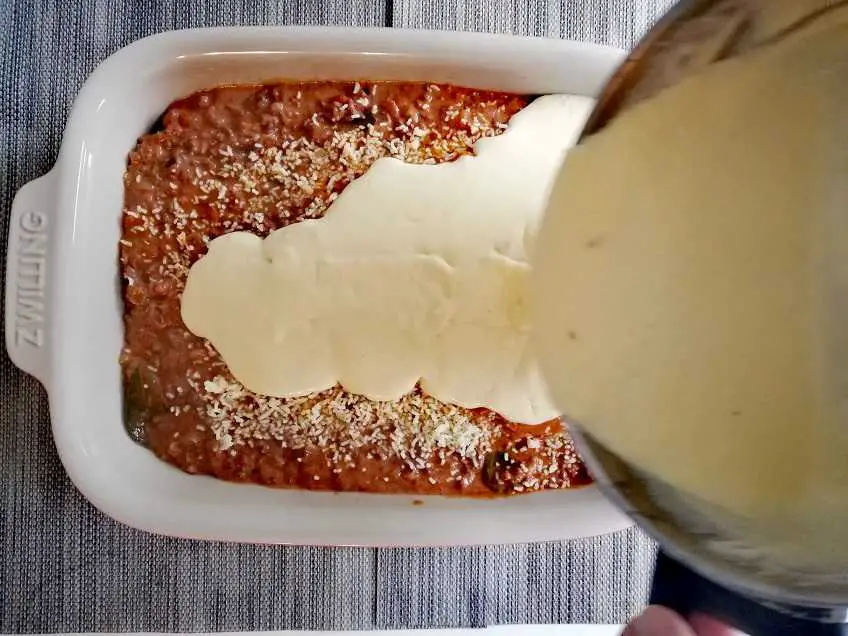 To assemble:
Spoon one-third of the meat sauce into a shallow ovenproof dish large enough to hold 2.5 litres.

Cover loosely with a third of the potatoes and then a third of the aubergines – you don't need complete layers, just to arrange them roughly on top.

Repeat the layers twice more, finishing with the aubergines.

Pour over the white sauce, making sure it covers everything in a thick, even layer.

Sprinkle with the remaining Parmesan.

Bake for 35–45 minutes, or until deep golden-brown and bubbling.

When ready, remove from oven and allow to cool.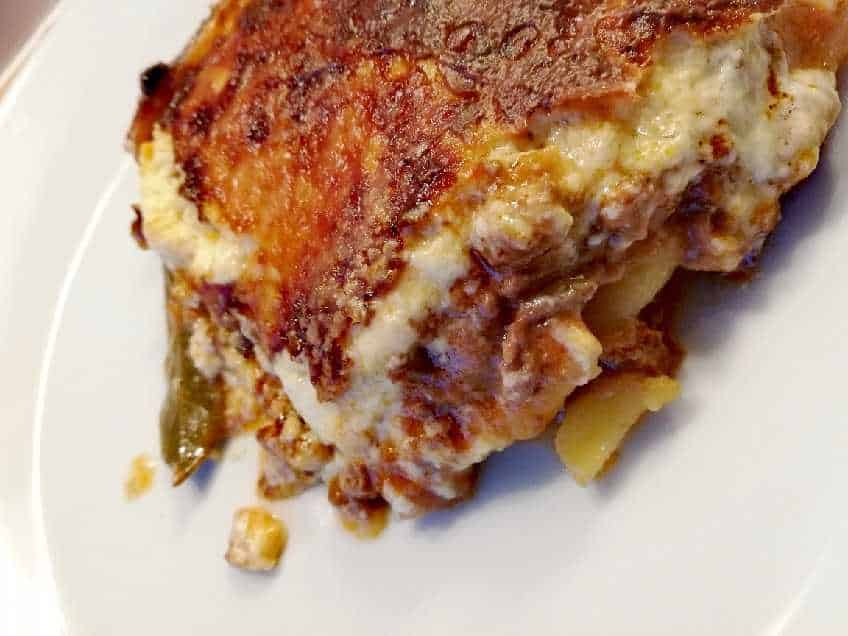 Greek Moussaka is full of rich taste and made from fresh natural vegetables. It melts in your mouth and tastes amazing. You can serve Greek Moussaka with fresh herbs, Greek Olive Oil, and Tzatziki to give some coolness to the dish.
Enjoy this authentic Greek Moussaka, the national dish of Greece!
Good appetite!
PREPARE NEXT