This post may contain affiliate links to help the reader find relevant products. We get commissions for purchases made through links. Thanks
Tzatziki or Greek cucumber yogurt appetizer is a classic Greek starter (or "meze") made from thick strained yogurt, cucumber, garlic, olive oil, and fresh dill. Tzatziki is a cool refreshing dressing or dip, and it's so easy and quick to make!
So how to make Tzatziki? Let's do it together!
Mediterranean Diet Ingredients:
½ a large cucumber, unpeeled
2 cloves of garlic, finely minced
2 tablespoons quality Extra Virgin Olive Oil
1 x 500g tub of strained full-fat Greek yogurt
1 small bunch of fresh dill, minced
1 lemon, squeezed juice
Salt for seasoning
How to make Tzatziki – traditional Greek Yoghurt sauce?
Preparation time: it takes around 15minutes
Grate the cucumber.
Place the grated cucumber in a sieve, rest it on a bowl and add some sea salt. Give it a stir, and leave to drain for a few hours.
In the meantime, peel and finely grate or crush the garlic, then combine with the oil in a large bowl.
Combine the yogurt, garlic, few drops of Greek Extra Virgin Olive Oil, vinegar, and salt in a large bowl.
Transfer the grated cucumber and fresh dill to the yogurt mixture and stir to combine.
Cover and refrigerate for a while.
Dress with a flourish of the chopped herbs and a drizzle of Olive Oil.
Serve chilled with pita bread for dipping or crackers. Or alongside salad and grilled meat with fried potato sticks.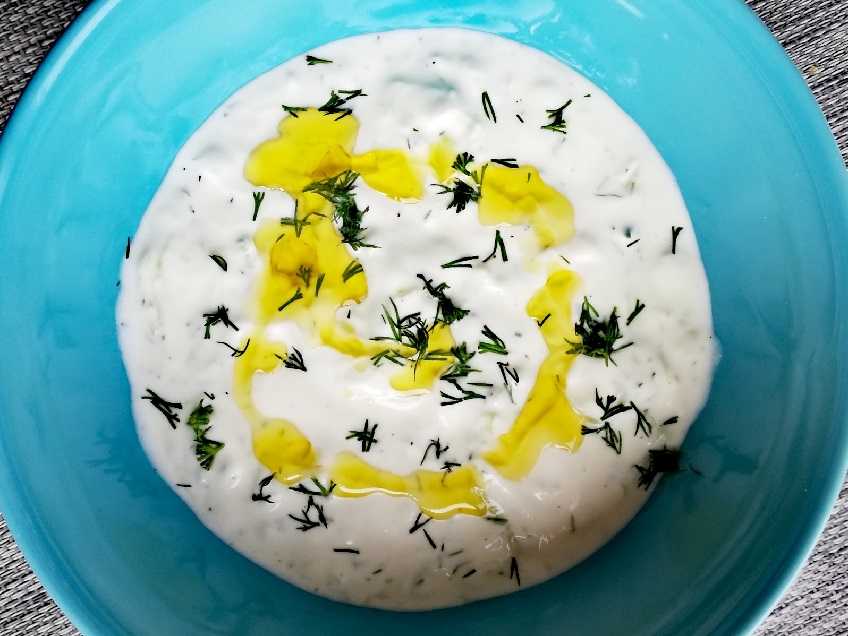 Enjoy the Medditarean dish full of healthy & natural ingredients! And share with us your dish pictures :)
Good appetite!
COOK NEXT