This post may contain affiliate links to help the reader find relevant products. We get commissions for purchases made through links. Thanks
The Greek Salads with or without Feta cheese is one of the most popular, delicious, and easy preparation dishes on the menu of the Mediterranean diet.
It is a traditional Greek meal locally named Horiatiki Salads ( in Greek: Χωριάτικη σαλάτα) which means a village salad. It is always made of fresh vegetables and locally produced pure Greek Olive Oil and takes only a few minutes to be ready to enjoy the Mediterranean taste!
Ingredients (for 6 servings):
4 large juice tomatoes, preferably organic tomatoes, cut into irregular wedges
1 cucumber, peeled, then roughly chopped
1 green bell pepper, cored
1 red onion, thinly sliced
16 Greek Kalamata olives
100g (4oz) creamy Feta cheese in blocks or crumbles (Feta cheese from Greek village is the best)
1/2 tbsp quality dried oregano
1-2 tbsp red wine vinegar
Salt, a pinch
Ground black pepper to taste
6 tbsp Greek Extra Virgin Olive Oil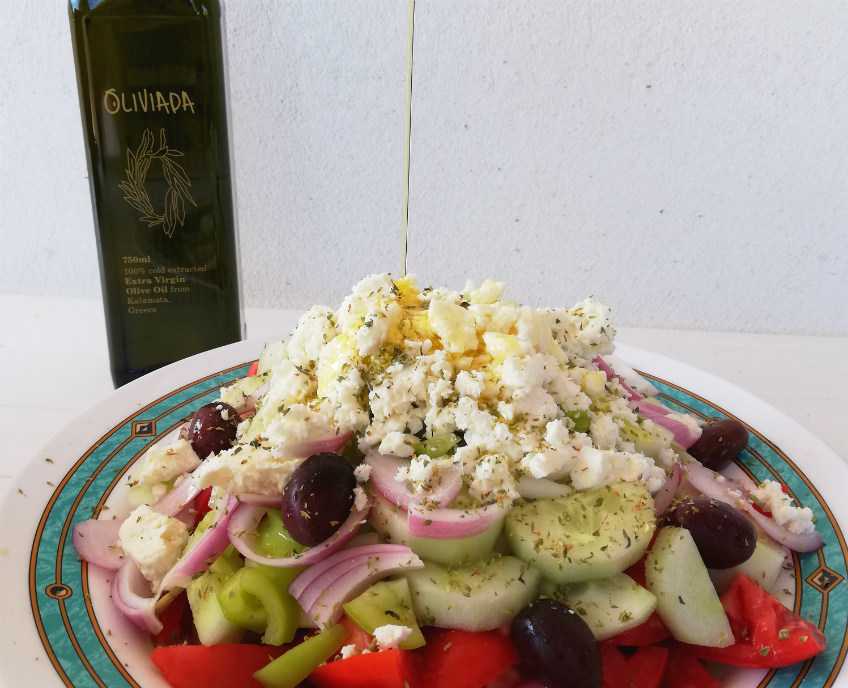 Preparation of Greek Salads with or without Feta Cheese
Time: it takes around 15 minutes to prepare the Greek Salads.
Cut 4 large tomatoes into wedges or chunks.
Cut 1 peeled cucumber into 2 halves lengthwise, then slice it into thick pieces.
Slice 1 bell pepper into thin rings or chop it.
Cut 1 red onion into half and thinly slice into half-moons.
Place everything in a large salad bowl. Add a good handful of the pitted Greek Kalamata olives.
Season very lightly with salt and black peppers (just a pinch). Pour the Greek Extra Virgin Olive Oil and red wine vinegar.
Give everything a very gentle toss to mix; do NOT over mix, this salad is not meant to be handled too much.
Add 100g Greek Feta cheese on top. Sprinkle the dried oregano.
Then serve with crusty bread to mop up all of the juices.
You can always serve Greek Salads with or without Fete cheese, however, the most authentic way is to use the fresh Feta cheese prepared in the local  Greek village.
Enjoy the Medditarean dish full of healthy & natural ingredients! Don't forget to share the picture of your Greek salads in the commentary section :)
Good appetite!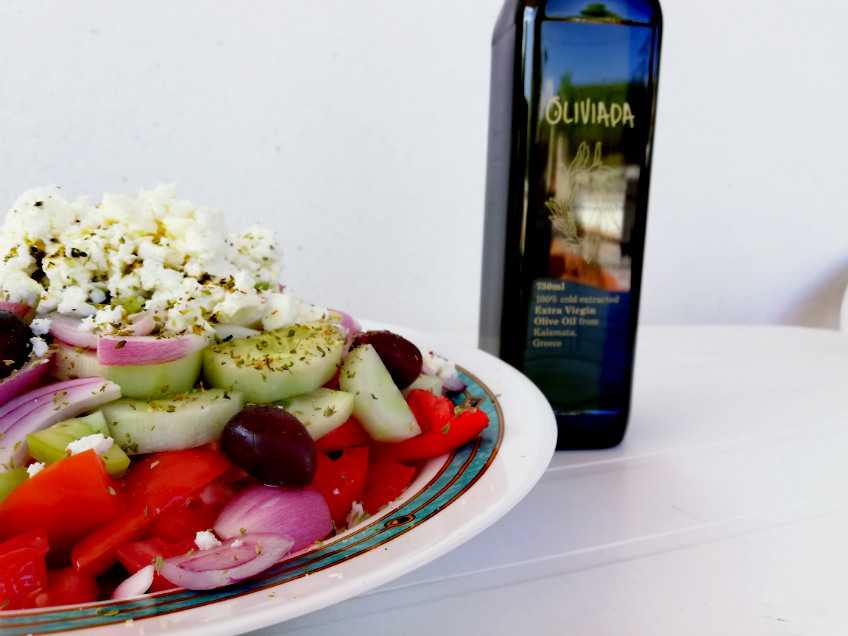 Nutrition Facts
Per Serving: 265 calories; 22.4 
 14.1   6   22   538 
COOK NEXT