This post may contain affiliate links to help the reader find relevant products. We get commissions for purchases made through links.
Olive trees can be grown in many different styles and shapes. They can be kept small, making them ideal candidates for bonsai olive trees. Or they can grow bushy and wide, filling up the whole corner of your living room. 
Shaping olive trees to grow bushier, wider, fuller, or even taller all require formative pruning. Formative pruning involves strategically trimming back the young olive tree stems, branches, and leaves to encourage growth or to prevent growth, depending on what the long-term goal is. 
Firstly observe your young olive tree and carry out formative pruning as desired. Keep reading to learn 2 different pruning techniques and how you can implement them into your olive tree maintenance based on your goals. 
2 Techniques to Shape Olive Trees: Formative Pruning
If you have just got your olive tree and it looks spindly, but you want a full, bushier tree, you'll need to do some strategic pruning to encourage growth. This is pretty much the only way to get a fuller-looking olive tree.
I will explain 2 different techniques suitable for young olive trees, ideally from one year old until their formative pruning is completed after about 4 to 5 years. 
*Most olive trees sold in garden centers will already be at least partially pruned and trained, so you can skip the first-year steps that are not relevant in your case.
1. Shaping a Central-leader Standard Olive Tree
If you want to make your olive tree with a clear central-leading branch that grows upwards ahead of the other branches and becomes taller, bushier, and wider, this technique is for you. This technique is perfect if you want your olive tree to look natural and wild fitting to your backyard setup, also, you do not care so much about commercial growing.
The most important is not to cut this central leader branch, as this could spoil the desired shape of your olive tree.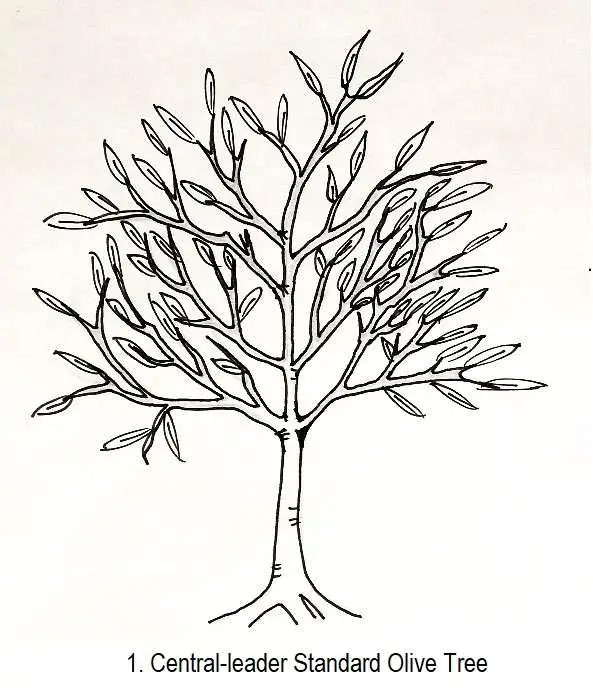 First Year
Divide the main stem of your olive tree into 3 parts.
Trim off side branches and leaves from the lowest part of your olive tree. Keep the main stem clean and clear.
Cut by half all the side shoots on the middle part of the main stem of your olive tree.
Leave the side shoots on the top part of olive tree untouched. Just remove any dead, diseased or damaged branches and leaves.
Remove any inward facing buds in order to prevent the growth into the centre of the olive tree. Seek to keep outward buds only.
Second Year
Trim off completely the side shoots that were shortened by half in year one (which should be now in the lowest part of the olive tree)
Cut by half the side shoots on the middle part of the olive tree
Get rid of any crossing or misplaced branches in the top part of the olive tree
Third Year
Follow the same steps as for the second year.
Fourth and Fifth Year
Clear the olive trunk of side shoots and branches to the height you desire
Continue to remove any crossing, misplaced, dead or diseased or misplaced branches in order to shape the form you want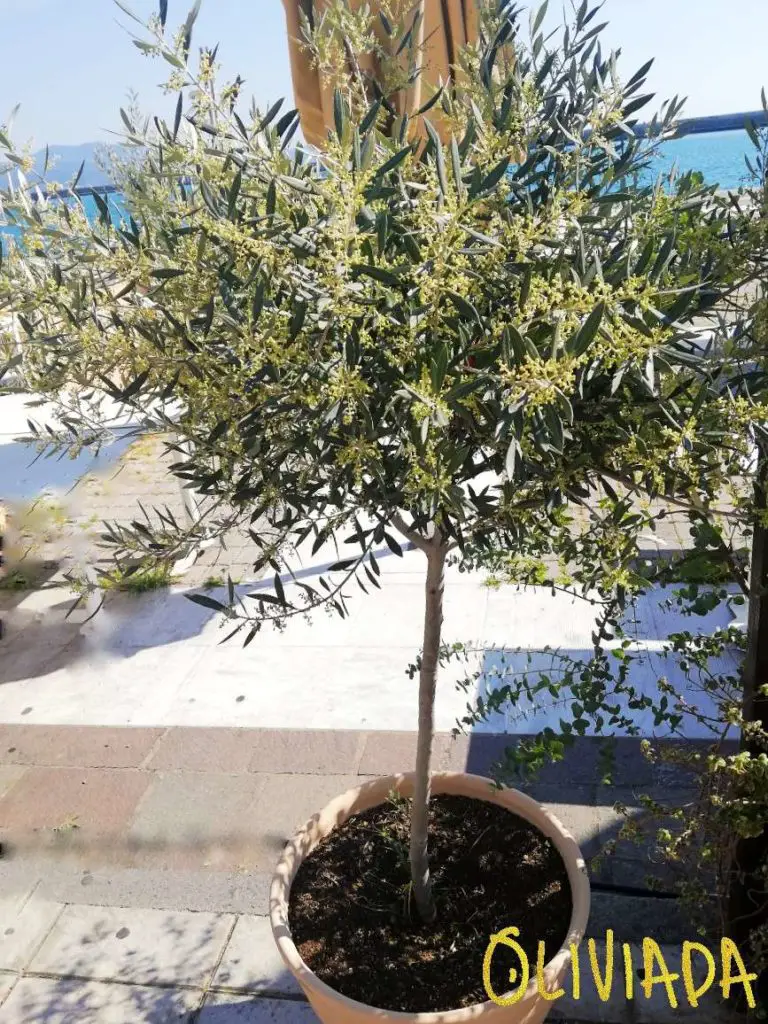 2. Shaping Open-centered (Vase Form) Olive Tree
This technique is suitable for your olive tree if you want to control its size, make it bushier, wider and increase olive fruit production. This formative pruning way is perfect for commercial olive tree growers in order to maximize yield.
You can reduce the final height of your olive tree that would otherwise grow as a central-leader branch (see 1 technique) by removing the leader branch and shaping an open-centered (vase form) olive tree.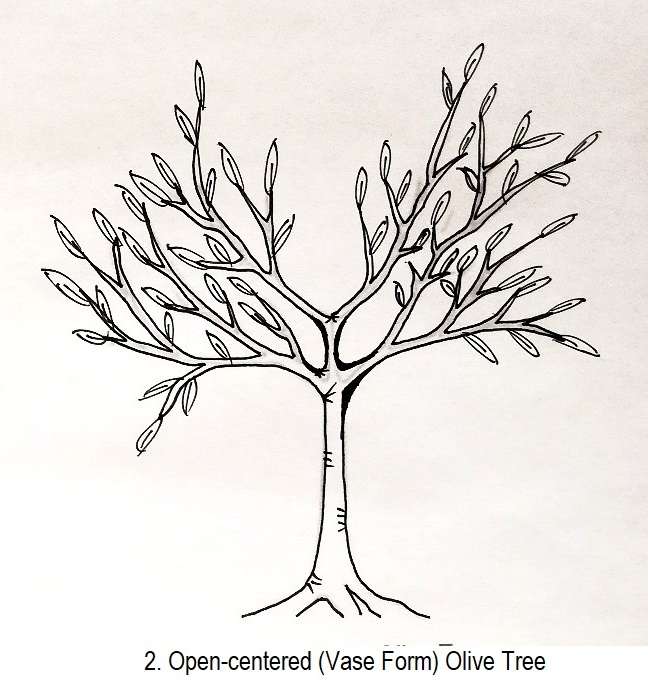 First to Third Years
Follow the steps above as for a central-leader standard olive tree (see 1 technique).
Fourth Year
Cut back the leading olive branch, cutting to an uppermost strong side shoot
Leave 2 or 4 side shoots in the top part of the olive tree untouched to form the branches (and form the open-centered or branched-head canopy). Only get rid of any badly placed branches or those that are crossing or rubbing
Cut the side shoots on the middle part of the olive tree by two-thirds in order to keep stubs that can replace branches if needed
Get rid of all side shoots from the lower part of the olive tree and keep the main trunk clean and clear
Fifth Year
Get rid of any strongly upward-growing (vertical) branches that threaten to dominate the canopy and spoil the shape you desire
Eliminate any crossing or rubbing branches
Cut back the canopy branches and side shoots a little to balance the shape of your olive tree. Cut to an outward facing bud to encourage open growth of your olive tree
Clear the desired height of olive trunk of any growth you desire. If you see that this pruning encouraged a new growth from the olive trunk, clear off the shoots as soon as they emerge
Problems with Shaping Olive Trees
Where upright shoots threaten to compete with the leader branch of your olive tree, then a single leading shoot will have to be selected, and the others removed. Select one that is upright and in line with rest of the olive tree.
Where the leader branch of your olive tree is damaged by wind, snow, or by accident, cut it back to a strong side shoot that is growing fairly vertically. Attach a bamboo stick to this side shoot and tie the shoot into the bamboo stick as it extends, training it upwards as a new leader of your olive tree.
Generic FAQs
When is the best time to shape olive trees?
Shaping olive trees is often carried out at the end of winter or early spring prior to new growth and once the risk of frost has passed. Though random light trimming can be done any time of the year.
How do I make my olive tree trunk thicker?
If your olive tree grows indoors, try to move it outside in spring-summer seasons and expose it to air movements. Because the movement of air means the olive tree trains and develops a much thicker, more resilient trunk. It's the reason trees are not firmly tied to a rigid stake from top to bottom when planted, to allow some movement to take place.
How do I stimulate olive tree growth?
Fertilize the olive tree each month from spring to summer for the first year with a fertilizer containing slow-release nitrogen. In subsequent years, space the fertilizing every four to six weeks. Do not fertilize in winter.
Final Thoughts
Formative pruning and shaping olive trees is an unknown thing to beginners' olive tree growers, but it's a necessary part of tree maintenance and care. All you really need to successfully shape your olive tree is a good understanding of your ultimate goal on how to shape your tree, what you need to trim, and when.
If you want to grow your olive tree as wild and natural as it is, select 1 technique and shape a central-leader standard olive tree. To make your olive tree bushier, wider & fuller, choose 2 technique and shape your olive tree open-centered. This way you not only shape olive trees in a commercial way but will increase olive fruit production every year.
Bear in mind, structural or formative pruning should be done as early as possible. Cause the older is the tree, the more difficult to shape it in the way you desire.
If you'd like more information about pruning olive trees in pots and tools to use, feel free to check out my recent post: 
Related Topics
Are You Looking to Buy an Olive Tree? 
If you are looking to add more potted trees or other plants to your orchard, or if you like to replace a neglected olive tree, the best places to get them are your local nursery or an online nursery.
One of the most reliable and the world's largest online nurseries is Fast Growing Trees. They deliver fast, neat, and healthy plants backed with a 30-day guarantee.