Your olive tree not fruiting and doesn't produce olives? There may be several reasons why your olive tree is not producing olive fruits, so your task is to identify the cause first. Here in this article, I will suggest a few possible causes for the olive tree not fruiting that may give you sufficient guidance. 
If you don't think any of the causes that I've listed apply to your olive trees, you can see a list of questions at the end of this blog that gives a bigger picture of possible problems and pinpoints what you should consider.
Age of Olive Tree
One possible cause of the non-fruiting could be the age of the olive tree. Many varieties of olive trees do not produce fruit until their third year.
Some other olive tree varieties (including, for example, the Arbequina olive tree) may start producing at a younger age. But the olive fruit that is produced in the early years is often smaller than the olive tree will produce as it matures. And in the early years, the olive fruit can also appear very rough and misshapen.
For instance, I have a Koroneiki cultivar olive tree growing in a large container that took four years after planting to start producing.
| Olive Tree Cultivar | Year to Bear Fruits |
| --- | --- |
| Koroneiki | Can bear olives in 1st year |
| Arbequina | Can bear olives in 1st year |
| Amfissa | 2-4 years |
| Leccino | 1-2 years |
| Frantoio | 2-4 years |
Table 1: 5 olive cultivars year when they start producing fruits
Lack of Sun or Insufficient Irrigation
Another possible cause of your olive tree non-fruiting could be a lack of sun or insufficient irrigation.
Olive trees perform best when it receives the sun for most of the day. Proper irrigation is also very important since olive trees prefer to be on a dry side comparing with moisture.
An under-watered olive tree will produce few if any olives. But it is also important not to overwater olive tree which can also cause problems.
In this short video we provide some very good guidance on how to water olive trees:
Lack of Nutrients
Lack of soil fertility could also cause problems in producing olives. Olive trees does need to be fertilized especially in fruiting phase.
Also, check out our article with good information on how and when to fertilize olive trees with guidance on how much fertilizer to use (which depends on the age and size of the trees).
Lack of Pollination
Another possible cause for nonproducing olive trees is a lack of pollination.
While many olive varieties are capable of producing olives without bees, wind, or other pollinizers visiting the flowers, a few varieties do require cross-pollination.  
For example, some Leccino and Mission cultivars require cross pollination by another olive tree to produce fruit.
| Olive Tree Cultivars | Pollination |
| --- | --- |
| Koroneiki | Self-pollinating |
| Arbequina | Self-pollinating |
| Frantoio | Self-pollinating |
| Leccino | Cross-pollinating |
| Mission | Cross-pollinating |
| Manzanillo | Cross-pollinating |
Table 2: Pollination characteristics of 6 olive tree cultivars
Olive Cycle
Finally, some olive trees will produce well only every other year, producing a good number of olives one year and only a few olives (or none at all) the next year.
So, if you've observed the olives trees for less than two full years, you may have seen them in their non-productive year.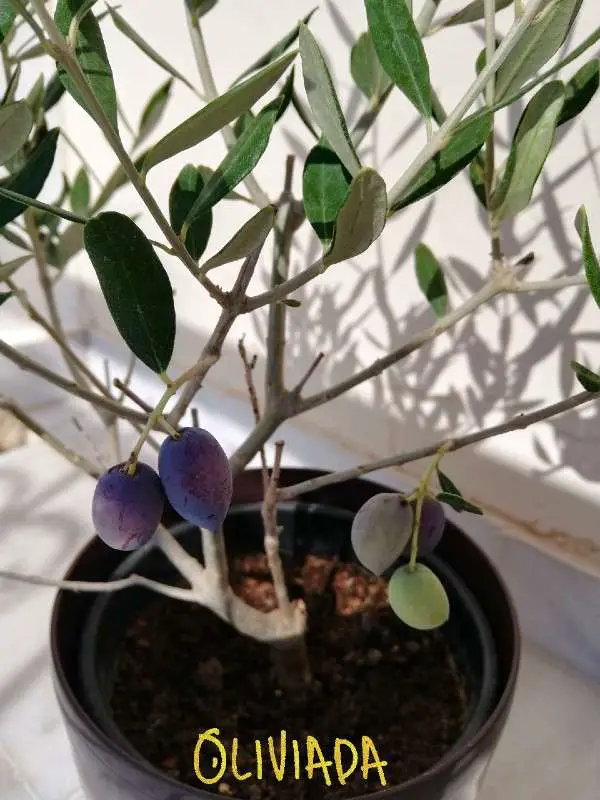 Generic FAQ on Olive Tree Fruiting
Checklist on why Olive Tree Not Fruiting
Hopefully with this information above you can determine what causes your olive tree to not producing and correct it. If not, here's the type of information you should consider on your particular olive trees.
Where do you grow your olive trees? Which City or part of the country?
What olive tree varieties do you have?
When did you plant your olive trees?  What was the size of the olive tree when initially planted?  What is the current size?
How many hours of sunlight per day do the olive trees receive in the spring and summer months?
How are the olive trees irrigated?  How much water is provided and how often do you water?
Are the olives trees planted in the ground or in containers?
If the olive trees are in the ground, what type of soil do you have (for example, is it heavy clay or are you one of the lucky souls who have more loamy soil?  If the trees are in pots or containers, what type of soil mixture was used to fill them?
Is the area under the canopy of the trees covered with weed (which helps the soil retain moisture)?
How have you been fertilizing the olive trees?  (frequency, amount, and type of fertilizer used)
Does the foliage on the olive tree look healthy?  Are the leaves silver-green or are they yellowing?
Any signs of insect damage on olive leaves, branches, or trunk?  (for example, curly olive leaves, spots or holes in the leaves, sticky substances on the leaves which could be honeydew from insects, ants crawling in the olive tree)
Do the olive trees have flowers in the springtime? 
If the olive trees have bloomed in past years, have you observed any bees or other pollinizers visiting the blossoms?  Are there many bees or just a few?
I hope this information is helpful in finding a root cause and getting your olive trees in shape to produce.
If not, I encourage you to provide the additional information described above to the Olive Tree Growers and Enthusiasts Group on FACEBOOK including the pictures of your tree and your observation.  In order that group members can focus more precisely on your particular problems and focus more closely on what is causing problems to your olive tree.
Read Next
HOW DO OLIVES GROW? ILLIUSTRATED GUIDE
Learn More