This post may contain affiliate links to help the reader find relevant products. We get commissions for purchases made through links. Thanks
Olive trees for landscaping are relatively low-maintenance and create accents to the Mediterranean-style landscape garden. They are extremely versatile and you can choose large, dwarf, single or multi-trunked olive trees to match your landscaping needs. Also, olives work well neighboring entryways, driveways, pathways, patios, and pools in landscape design.
Moreover, olive trees offer delicious ripe olive fruits in fall or early winter. Their silver-green foliage and tiny olive tree flowers also boost a landscape's aesthetic appeal.
The best olive trees for you depend on your location and your preferences. So here I have put together a list of the 5 best olive trees for landscaping including several basic landscaping arrangement strategies to provide the optimal environment needed for healthy olive trees, reduced disease incidence, and big fruit harvests.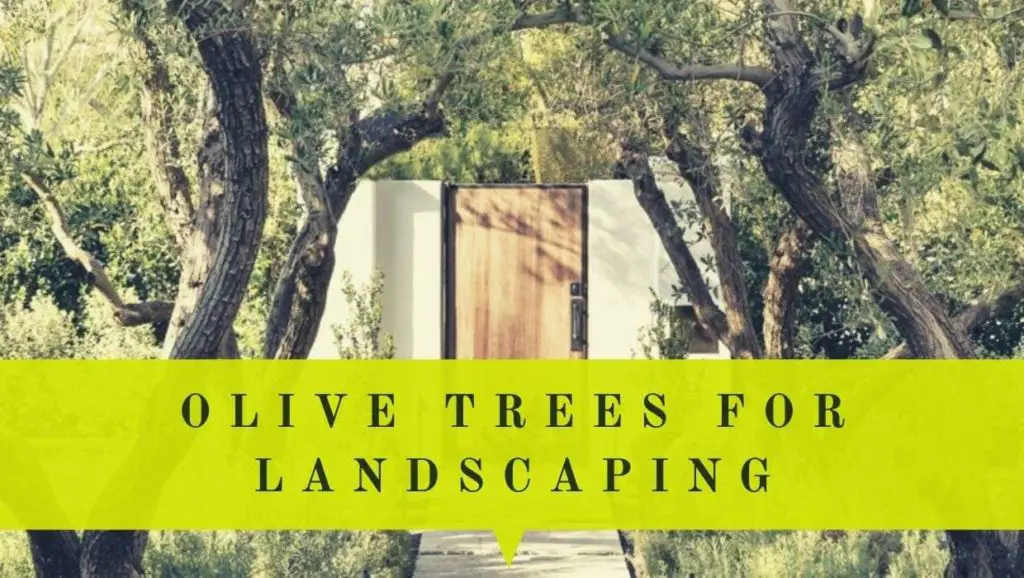 5 Best Olive Trees for Landscaping
There are more than 700 olive varieties across the globe, but here I list the 5 best olive trees for landscaping based on popularity, resistance, and olive harvest that will add a touch of magic to your backyard.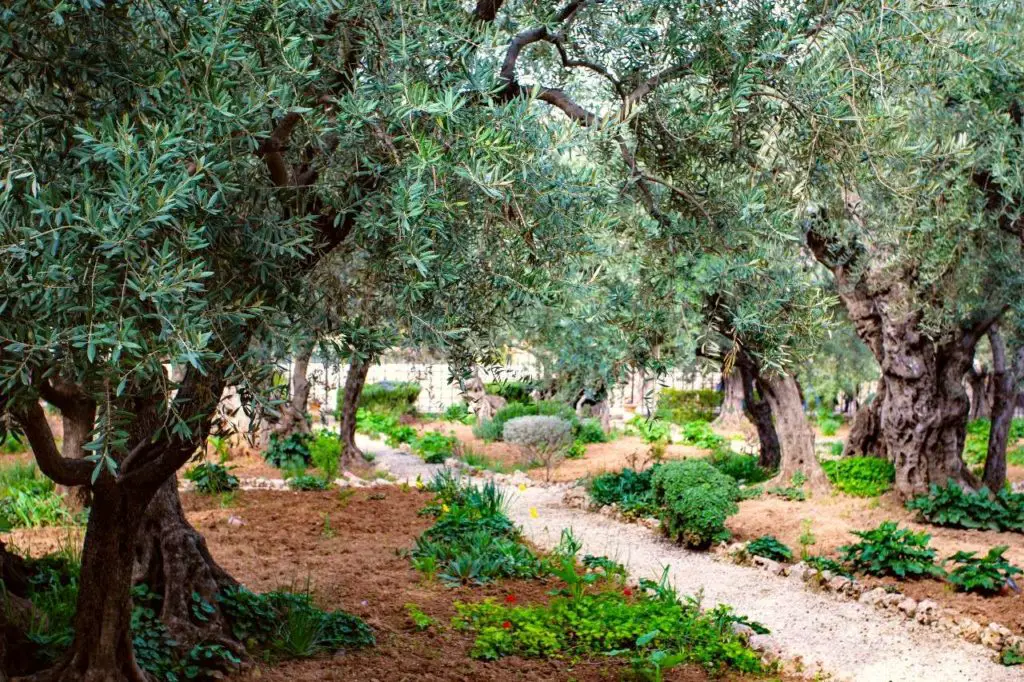 1. Kalamata 
Add spectacular four-season beauty to your landscape with Kalamata olive tree. It's noted for its petite creamy flowers, large fruits, and silver-green foliage – is an ideal landscape tree for large, open areas that otherwise look kind of plain.
Kalamata olive trees originated from Greece (Kalamata city) are vigorous trees, with good tolerance to harsh climate and poorer soils, and have great disease resistance.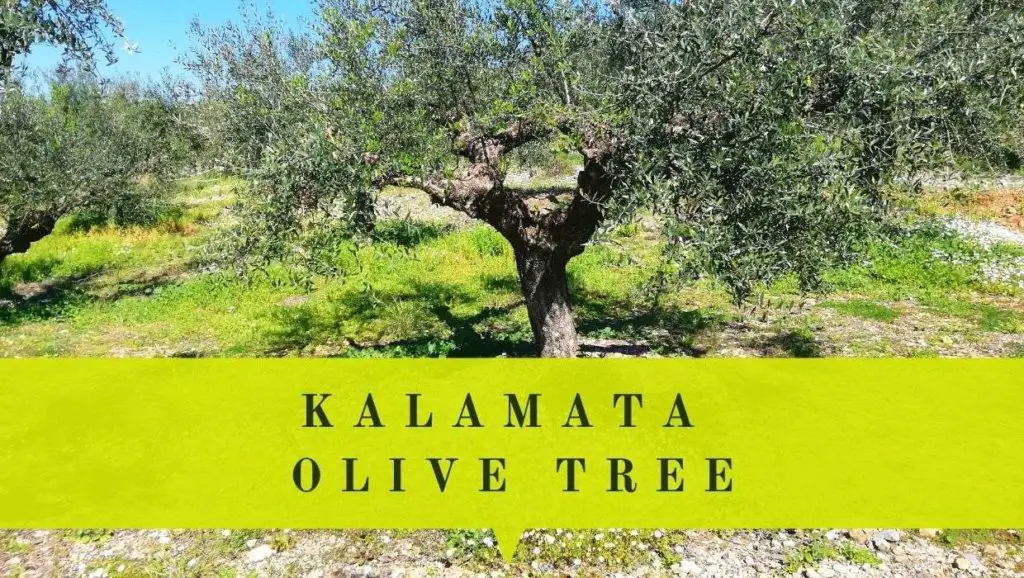 These trees produce large, meaty texture olives (3 to 5.5 grams in weight) that are harvested once they turn dark purple, brown, or deep black color. Recognizable by their unique almond shape and size, they are ideal for table olives or cooking.
Kalamata olive variety is self-fertile, but fruiting may improve if cross-pollinated with Koroneiki or Frantoio.
| | |
| --- | --- |
| Botanical Name | Olea europaea 'Kalamata' aka 'Kalamon' |
| Growing Conditions | Full sun to part shade, well-drained soil |
| Size | Up to 23 feet (7 meters) tall and 15 feet (4.5 meters) wide |
| Harvest Time | Late season |
| Fruit Size | Large |
| USDA Hardiness Zone | 8 – 11 |
Table 1. Kalamata olive tree characteristics
---
2. Arbequina
Arbequina olive tree brings beauty and interest to your landscape, is an easy to grow relatively small and compact tree which height can be managed easily by lightly pruning.
Arbequina olive tree variety comes from Catalonia in Spain, a relatively small but vigorous tree with good tolerance of frosts and poorer soils.
These trees bear small size olives (1.5 – 2 grams in weight) that are traditionally used for oil production, but they can also be used as table olives and pickled green or black. High productivity and high oil yield.
Arbequina olive variety is self-fertile but can increase yield with cross-pollination.
| | |
| --- | --- |
| Botanical Name | Olea europaea 'Arbequina' |
| Growing Conditions | Full sun to part shade, well-drained soil |
| Size | Up to 16 feet (5 meters) tall and 13 feet (4 meters) wide |
| Harvest Time | Fall |
| Fruit Size | Small |
| USDA Hardiness Zone | 8 – 11 |
Table 2. Arbequina olive tree characteristics
---
---
For more information on how to care about Arbequina olive trees, read my article Arbequina in pots growing tips.
3. Maurino
Count on the Maurino olive tree to put on a terrific spring show with its attractive white olive flowers following with fruity olives in late autumn.
Maurino olive trees are classic Italian olive trees from Tuscany, easy to grow, very adaptive to diverse and harsh climatic conditions, reliable fruiting trees. This olive variety is very resistant to extremes in the cold so can be grown in colder climate zones.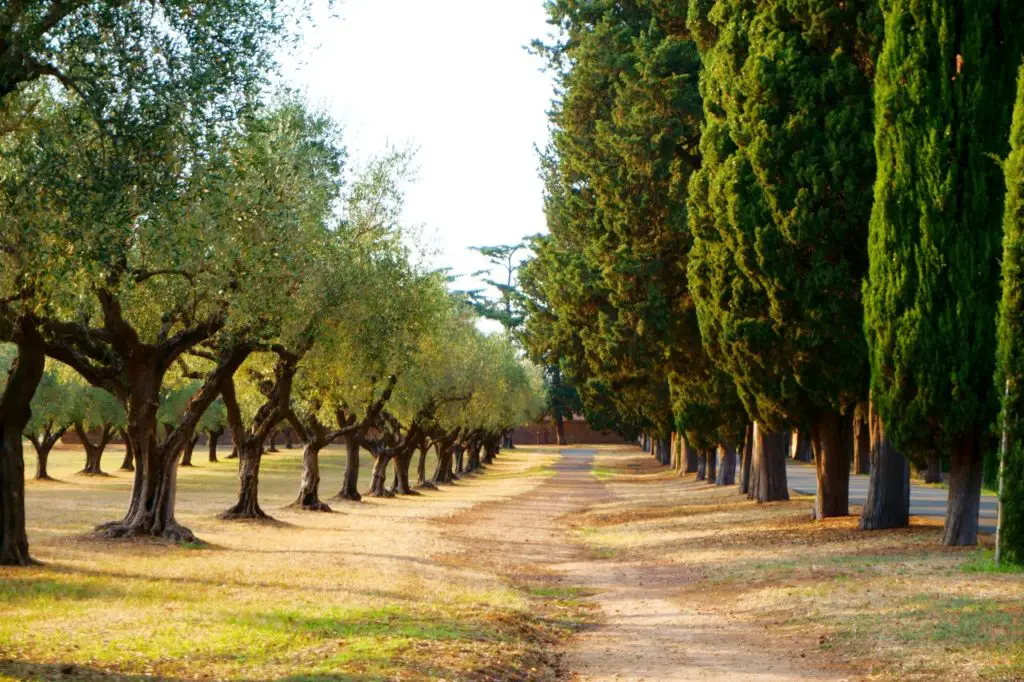 Their olives are dark violet or black, oval-shaped olives that ripen in mid-season and have a very high oil content. Also, they can be pickled at home and have a pleasant nutty flavor.
Maurino is a self-fertile variety that consistently produces substantial harvests.
| | |
| --- | --- |
| Botanical Name | Olea europaea 'Maurino' |
| Growing Conditions | Full sun, well-drained soil |
| Size | Up to 30 feet (9 meters) tall and 20 feet (6 meters) wide |
| Harvest Time | Mid-season |
| Fruit Size | Small |
| USDA Hardiness Zone | 8 – 11 |
Table 3. Frantoio olive tree characteristics
---
4. Manzanillo
Attracting pollinators in spring with panicles of tiny, fragrant, creamy-white flowers, Manzanilla is a generally low evergreen tree, easy to grow.
Manzanilla is one of the Spanish varieties most widely grown in the world. This is a dual-purpose olive cultivar as its oval-shaped olives can be pickled when they're straw-colored, plump, and meaty, and are also used to produce olive oil. Manzanilla olives have thick skin, excellent texture, and medium/high olive content.
Manzanilla olive variety is self-fertile but may benefit from cross-pollination with Frantoio and Arbequina.
| | |
| --- | --- |
| Botanical Name | Olea europaea 'Manzanillo' |
| Growing Conditions | Full sun, well-drained soil |
| Size | Up to 23 feet (7 meters) tall and 20 feet (6 meters) wide |
| Harvest Time | Late season |
| Fruit Size | Medium |
| USDA Hardiness Zone | 8 – 10 |
Table 4. Manzanillo olive tree characteristics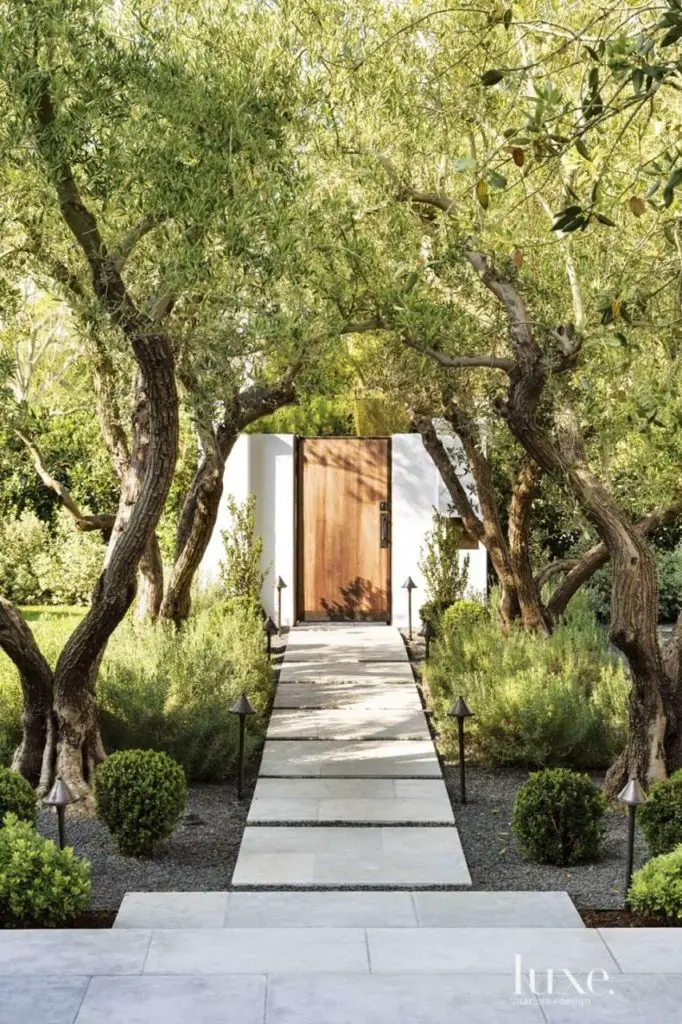 ---
5. Koroneiki
Koroneiki is a hardy and versatile tree with an open canopy and medium vigor, it is ideal for dense landscape planting. It offers clouds of petite creamy flowers in spring that turn into clusters of small olive fruits in fall.
Koroneiki olive trees are the most widespread Greek olive cultivars, very heavy fruit set and reliable tree that does well in colder climates. They bear almond shape small olives (1 – 2 grams in weight) that have high olive content (with being exceptionally good oil quality).
Koroneiki oil is green in color when just squeezed, very fruity with an emphasis on herbal-green fruitiness, and graced with a long shelf life of more than 2 years.
Koroneiki variety is self-fertile, however fruit yield increase if cross-pollinating with the Kalamon variety.
| | |
| --- | --- |
| Botanical Name | Olea europaea 'Koroneiki' |
| Growing Conditions | Full sun to part shade, well-drained soil |
| Size | Up to 30 feet (9 meters) tall and 20 feet (6 meters) wide |
| Harvest Time | Late season |
| Fruit Size | Small |
| USDA Hardiness Zone | 8 – 10 |
Table 5. Koroneiki olive tree characteristics
Also, you can style and shape olive trees into bonsai (see my full guide on how to make an olive tree into bonsai), and recreate nature into miniatures: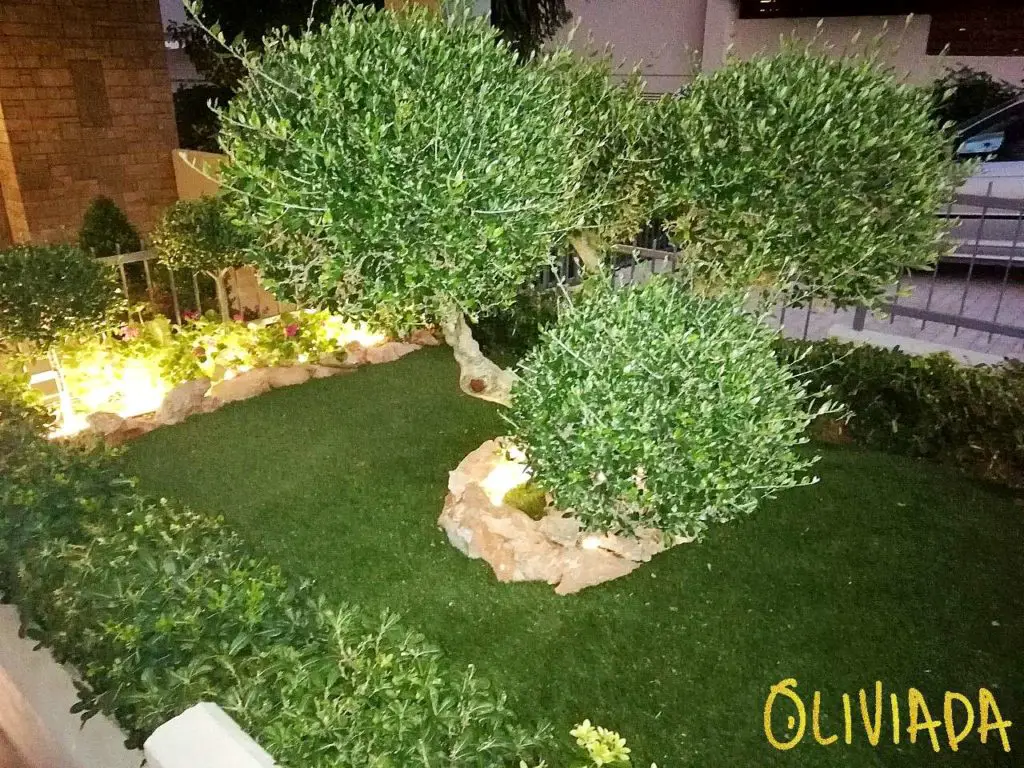 If you are interested to learn more about Koroneiki variety, check out my ultimate guide about Koroneiki olive trees.
---
---
Olive Trees Landscaping Arrangement Tips
Adding an olive tree or two to your backyard or garden is pretty easy, but there are a couple of things you should think about before diving in and landscaping with olive trees.
Sun Exposure
Olive trees need tons and tons of sunlight to synthesize enough energy for their annual fruit yield. 
Observe how the sun throws light and shadows in your backyard throughout the day. While most olive trees can grow well in 6 to 8 hours of direct sun exposure every day, 8+ hours is even better.
Always focus on south-facing areas of your landscape, which typically have longer and more direct periods of sun exposure.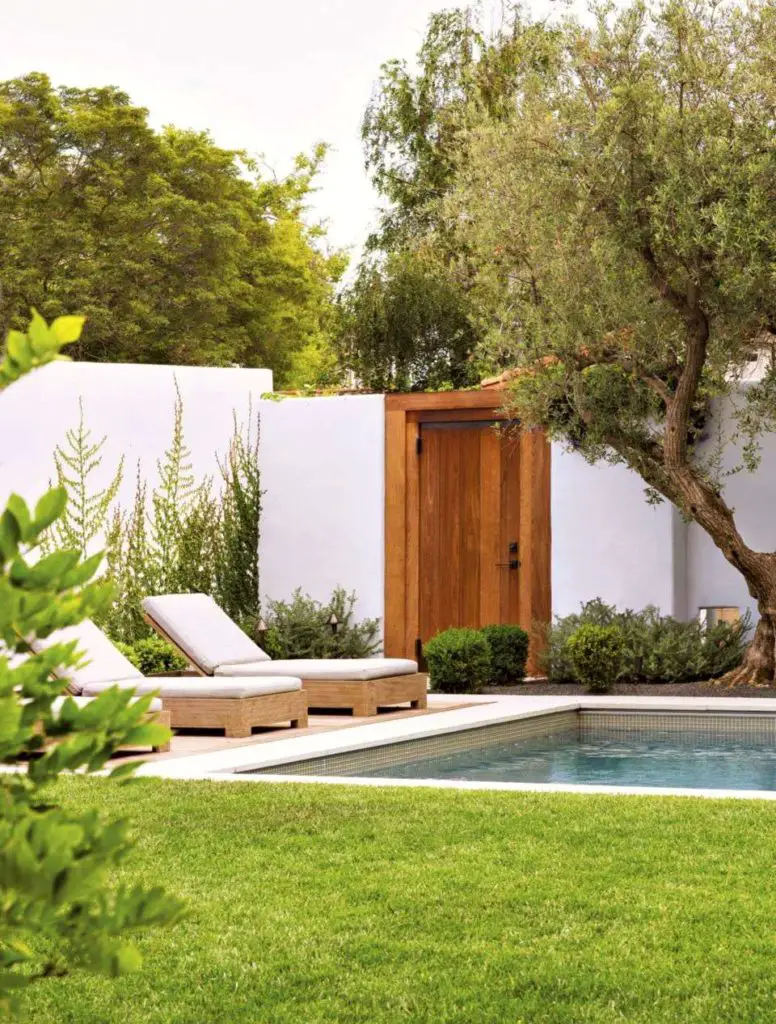 Winter Cool
Basically, olive trees need a cool, dry climate in winter to enter dormancy and trigger flowering in spring (and thus fruiting).
Some olive varieties may stand more chill weather than others, but all olives like to be frost-free.
Property Constraints
Examine your backyard utility map or construction plan prior to making decisions on where to plant olive trees.
Your olive trees should be planted and arranged approximately 15 to 20 feet (4.5 to 6 meters) away from other buildings or garden structures, as well as pipes, overhead power lines, septic tanks, and drainage fields.
Also, check my article about the olive tree root system and when it it invasive and not.
Placement
Choose locations that receive enough sun and are away from other buildings or structures or underground obstructions. This determines how many olive trees you can squeeze into your space.
While olive trees can be planted as close as 15 feet (4.5 meters) to each other, most varieties will produce much more fruit if planted approximately 25 feet (7.5 meters) apart.
Be sure to position your olive trees in an area that won't be negatively impacted by dropping fruit. If you plant your olive tree next to a path or driveway, check out my recent guide about 5 ways to remove olive stains from concrete.
Also, take maintenance into consideration when landscaping with olive trees. You'll need access to prune annually and harvest olives!
Looking for a Personalized Gift?
Adopt an OLIVE TREE in Greece –
Receive Premium Olive Oil!
Small Orchard
If you decide to go with a small olive tree orchard, arrange them in rows once you've determined how many trees you can plant in the space available.
Ideally, the tree rows should run from north to south in olive orchard planning. This maximizes sun penetration into the tree canopy, which in turn ensures the greatest olive tree health and fruit production.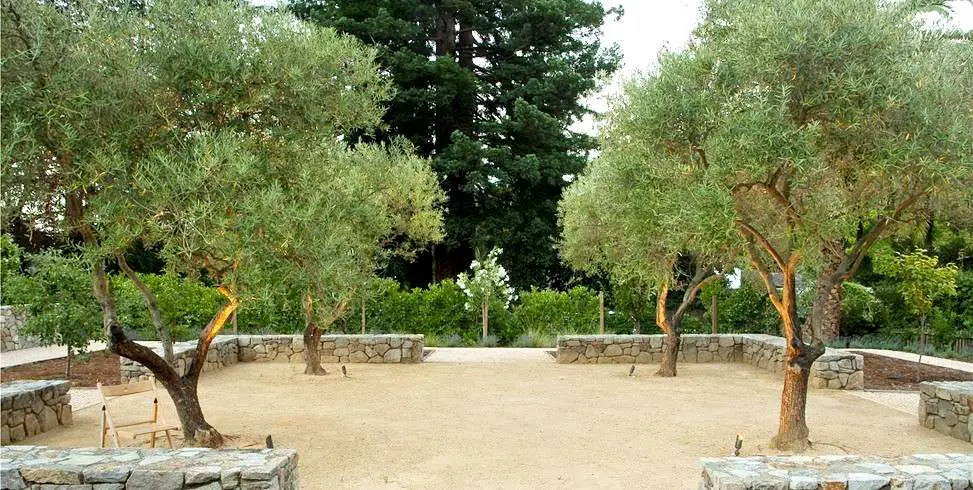 Your Olive Tree Care Guide
Water deeply rather than frequently. Just planted young olive trees water 2 to 3 times per week to get established, while mature trees need only a monthly soak depending on weather conditions.
Prune olive trees for shape couple weeks after harvest or after the last frost. If left unattended, some olive cultivars may grow to 30 feet (9 m) or more. But they respond well to pruning, if you wish to maintain them at a specific size. Snip water shoots and suckers growing below the rootstock at any time.
Fertilize with an organic, slow-release nitrogen focus fertilizer formulated for olives in late winter or early spring, mid-summer, and early fall.
Mulch with organic materials that decompose and provide nutrients for your olive tree — 2 to 4 inches (5 – 10 cm) thick and 6 to 12 inches (15 – 30 cm) from trunk to prevent rot.
Grab Essentials for Your Olive Tree Care
I have selected highly customers recommended available products on Amazon for proper olive tree care and maintenance:
Last update on 2023-09-22 / Affiliate links / Images from Amazon Product Advertising API
Final Thoughts
My listed olive trees in this article are one of the best options for gardeners who seek an edible landscape but don't want to worry about cross-pollination and happy to have their own source of fresh backyard olive fruit.
Olive trees add much-needed shade, privacy, color, and value to your landscape. Also, most olive trees can be dwarf varieties and will remain relatively small for a number of years, so people treat them (at least initially) as pot or container trees. 
The great side of olive trees is family blending. Where you can not only have a cozy family dinner under the olive tree but also gather together for some fun activities and pick up the fresh olives to brine in your favorite style or squeeze homemade olive oil.
If for some reason you don't want to collect the olive harvest, or maybe you have a pollen allergy, also, would like to avoid fruit staining walkways, then consider fruitless olive trees for landscaping!
Finally, if you are searching for a reliable tree seller, you can check the Fast Growing Tree website where they have many options for your landscaping design.
Read Next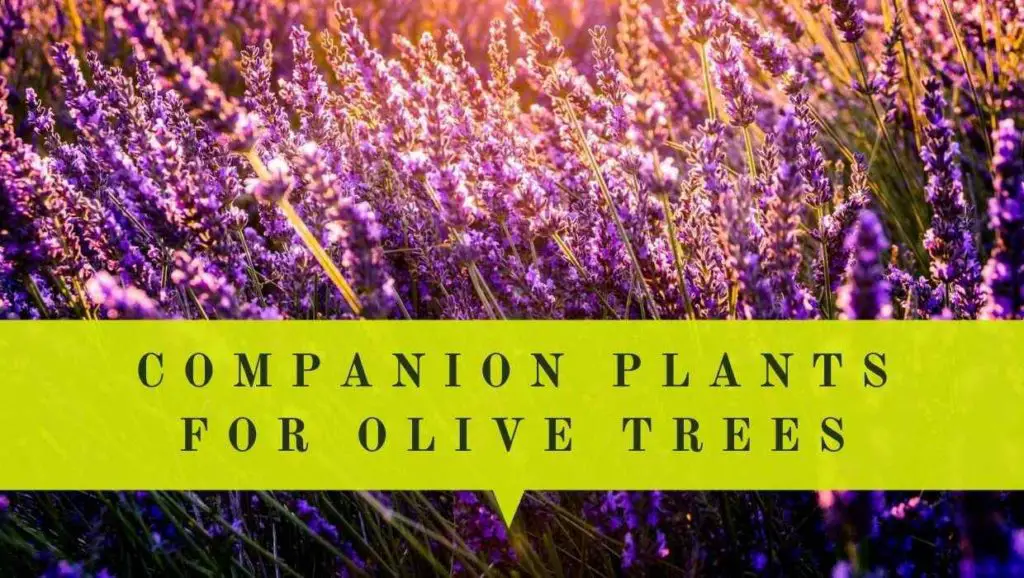 Learn More
Are You Looking to Buy an Olive Tree? 
If you are looking to add more potted trees or other plants to your orchard, or if you like to replace a neglected olive tree, the best places to get them are your local nursery or an online nursery.
One of the most reliable and the world's largest online nurseries is Fast Growing Trees. They deliver fast, neat, and healthy plants backed with a 30-day guarantee.