This post may contain affiliate links to help the reader find relevant products. We get commissions for purchases made through links. Thanks
On a recent Sunday, I started my morning in the right way and I made a perfect Greek breakfast at home! This Greek breakfast is not only one of the healthiest meals in the morning full of protein, vitamins, and nutrition. But it's also one of the quickest and easiest to make. Period.
For instance, most of the time though, we just boil a couple of eggs in the morning, eat them and go to do other things. But, if you spend just 10 minutes more for your own good, you will get a perfect Greek Breakfast!
So this time I would like to share my Greek breakfast version with you. It is worth trying!
What is in a Perfect Greek Breakfast?
A perfect Greek breakfast begins with fresh mixed juice made from oranges and greens. It is a nutritional powerhouse filled with vitamins and fiber.
Then the heart of the breakfast is boiled eggs. Aside from their impressive protein source, eggs are low in calories, high in nutrients, and especially weight-loss friendly.
And most important, the perfect Greek breakfast is accompanied by tomato salads and feta cheese. It is a must!
In general, the Mediterranean diet is recognized as the best diet in 2020 by Insider and Greek food is part of that!
So let's look at my suggestion for your next perfect breakfast in a Greek way!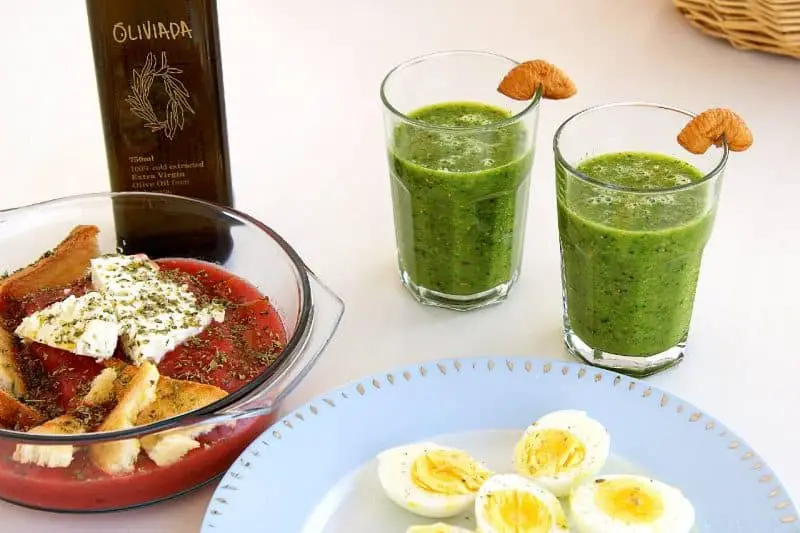 Ingredients (for 2 servings)
4 large free-range eggs
2 large tomatoes
6 bread crackers (medium size)
2 Feta cheese slices
Vinegar or balsamic sauce
Oregano, a pinch
Salt, a pinch
Ground black pepper, a pinch
For mixed juice you need:
3-4 oranges
1 rib celery
1/2 cup of spinach
1 pear
1 kiwi
2 dried figs
Lemon, a slice
Ginger, a tiny piece
Helpful Kitchen Appliances for Greek Breakfast Recipe
Egg Cooker
Magic Blender
Citrus Juicer
Last update on 2023-06-03 / Affiliate links / Images from Amazon Product Advertising API
Additional Kitchen Accessories 
Peeler
Glass Bowl
Knives
Last update on 2023-06-03 / Affiliate links / Images from Amazon Product Advertising API
Greek Breakfast Preparation
Preparation time: about 15 minutes
Boil eggs for 6-7 minutes.
While boiling eggs, get prepared your tomato salads. Take a glass bowl and add bread crackers.
Then wash very well tomatoes and slice it. Blend tomato slices with a blender. You should get thick consistency tomato juice.
Pour tomato into a small bowl and add a pinch of salt, black pepper, oregano, and couple tablespoons of Greek olive oil. Mix all together.
Thereafter, pour this tomato juice onto crackers and leave it to soak for a couple of minutes.
Once eggs are done, leave it to cool in cold water. Peel it and slice in halves. Sprinkle salt, black pepper.
On tomato salads add Feta cheese on top.
Sprinkle oregano and Kalamata olive oil on both: eggs and tomato salads.
Then move on to make fresh mixed juice.
Fresh mixed juice preparation
Cut oranges in halves. Squeeze it by using a citrus juicer to do this.
Peel and slice pear, kiwi. As well, peel a slice of lemon and ginger.
Chop celery and dried figs.
Combine chopped celery, figs, sliced pear, kiwi, spinach, lemon, and ginger in the blender.
On top pour squeezed orange juice and blend it until smooth.
Serve with your Greek breakfast: boiled eggs and tomato salads.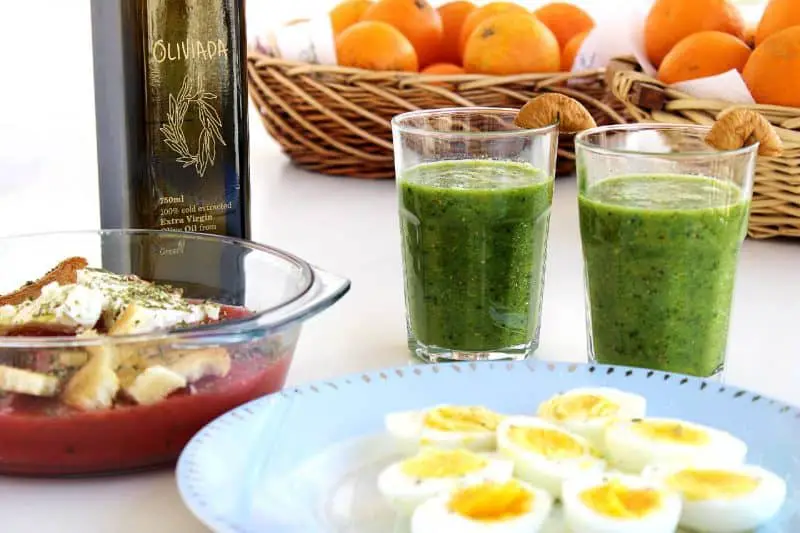 Evidently, most of the protein comes from eggs. As well you can find loads of healthy ingredients in the fresh mixed juice from greens and oranges and natural tomato salads.
Since nearly all ingredients in the juice can be replaced with substitutes, I normally use what I have in the fridge that morning. Besides, you can be very creative and add more components to salads such as cucumber, basil, and so on.
Indeed, just by adding a bit of time and effort, you get a perfect Greek breakfast on your morning table! Make it a lovely routine and you will always have a healthy meal first thing in the morning!
Enjoy a perfect Greek Breakfast full of proteins and nutritious fresh ingredients! Don't forget to share your Greek breakfast experience & pictures with us?
And for your Perfect Greek Breakfast, Oliviada suggests PREMIUM Kalamata extra virgin olive oil!
Cook Next