This post may contain affiliate links to help the reader find relevant products. We get commissions for purchases made through links. Thanks
Dust can accumulate in every part of the house, even on your olive trees and other houseplants. Although not usually noticeable, grime and filth on olive tree leaves inside your home have a huge disadvantage on tree health and the overall atmosphere.
Not only it may prevent photosynthesis by blocking sunlight, but it also has a high risk of letting infestation occur in the comforts of your very own home! To get rid of possible hazards, it is best to use several ways of cleaning olive tree leaves and maintain them to their utmost capacity.
Let's have a look into 5 different ways how to clean indoor olive tree leaves!
Dust Leaves with Feather Duster
Small collections of dust in your olive tree leaves are no cause of concern especially if you have a feather duster lying in the house. These dusters are the easiest and gentlest way of ensuring that your olive leaves are not damaged as long as you only use enough force.
Since olive leaves are a combination of sturdy and fragile, thus, it is best to note that feather dusters made of ostrich feathers are used. Some even prefer a specific color combination, such as those equipped with black feathers. This ensures the quality of feathers while still being soft to touch – leaves and stems won't be unnecessarily harmed.
Paintbrush and toothbrush are also options to consider for those olive leaves that are small and needing extra care.
When your indoor olive tree is bearing flowers, it can also benefit from using these mini-bristles, so the flowers won't be removed and gently wiped instead. It is a tiring cleaning method and is not an efficient method of removing soot from olive trees in pots, especially if each leaf needs to be dusted.
Although this technique will not fully clean your potted olive trees, this will prevent grime particles from settling down the leaves and lessen the build-up for the next general cleaning session.
First Water Spray, Then Wipe Off
The most sure-fire way of removing accumulated dust and filth on olive trees when you leave for that skin-tanning vacation is water.
By using a water nozzle, big and sturdy olive trees will be clean in no time. Just make sure to keep the pressure low to avoid damage to those olive trees you prize so much.
Using lukewarm water is also a trick, because either too cold or too hot may harm your tree leaves and lead to complicated problems.
Another way is by the use of a gentle mist through a spray bottle – this technique is great for your olive trees during a heatwave and dry season.
After using water spray, you can simply wipe the olive tree leaves off with a damp cloth.
Remove Unwanted Particles with Compressed Air Dusters
Compressed air dusters can be used to remove unwanted particles from the olive trees' leaves, and even blow off insects and dust that are stubborn and resistant to feather dusters.
Angle the air and use it 20 inches or 50 cm away from the olive tree stem to prevent damage, and all the dusty particles or unwelcome insects will be gone in no time.
Air compressor way to clean indoor olive tree leaves works perfectly to remove mealybugs or aphids.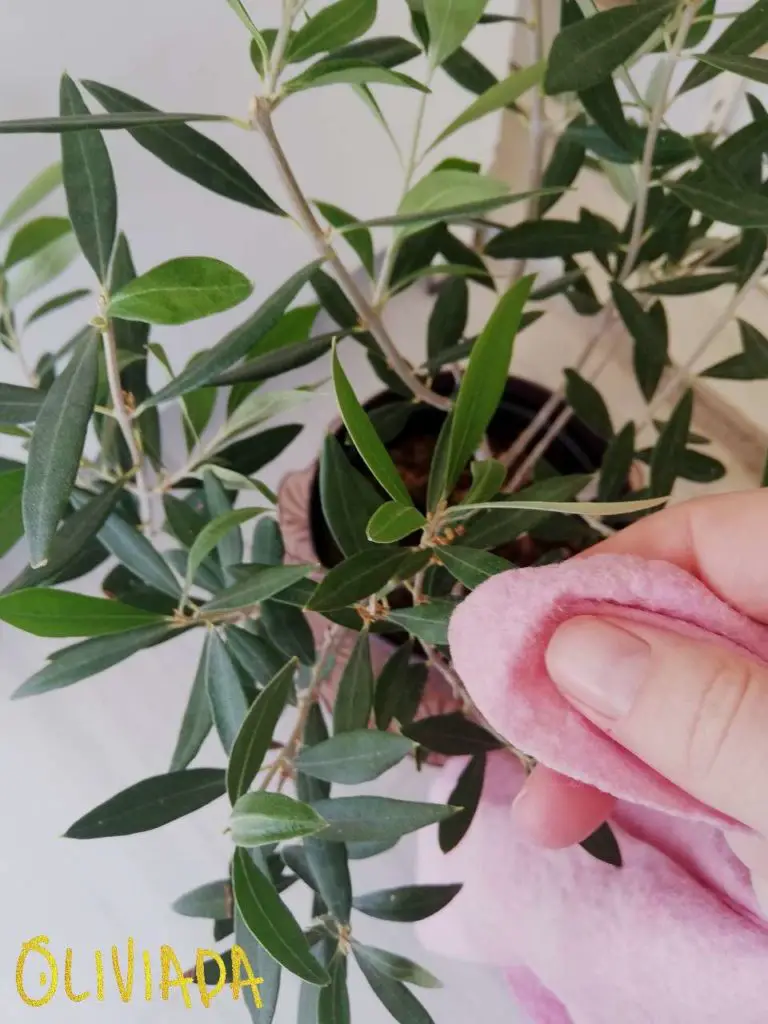 Soap Solution Always Works
Some grime and soot are really resistant to water and wiping them down also yields no satisfactory results.
In this case, a soap solution spray may be necessary, which will also require a follow-up wipe down or rinse. This is to ensure that the drying of the soap solution will not stain the olive tree leaves white nor harm the tree in the long run.
The soap solution can be made by mixing 1/4 teaspoon of mild dish soap per quarter of lukewarm water. Shake and spray the entire tree from top to bottom, and air dry.
Trim the Dead Leaves or Stems
To tidy up an olive tree's appearance, light trimming is also necessary. Removing the yellow leaves and the dying stems can ensure the organized look of the olive tree. This will also ensure that the indoor olive tree is in tip-top shape because not removing the infected area may lead to its spreading.
Pruning the brown parts is also necessary, just take note that resistant ones should not be taken by force. This may lead to tree damage and will cause complications in the long term.
Grab Essentials to Clean Indoor Olive Tree
We have selected highly customers recommended available products on Amazon:
Last update on 2023-06-08 / Affiliate links / Images from Amazon Product Advertising API
Generic FAQs
How Often Should I Clean Olive Tree Leaves?
It really depends on how much dust is in your air. If you live next to dirt roads, construction, and a lot of wind, you will need to clean your indoor potted olive tree more often. The best way to tell if an olive tree needs cleaning is to rub your fingers on the leaves. If you can feel or see dust, it's time to clean your olive tree.
Should I Clean Olive Tree Pot or Container?
Yes, wipe dust and remove soil or debris from the pot after watering your olive tree to keep it always clean. Also, to clean clay pots use steel wool or a wire-bristle brush to remove mineral deposits and other debris. If you are repotting, always disinfect pots or containers accordingly prior to using them.
Conclusion on How to Clean Indoor Olive Tree Leaves
Clean indoor olive trees in pots can affect the overall vibrancy of a home – this may brighten the place and give off a lively atmosphere. Having tidy indoor greenery not only relaxes the inhabitants but also gives a welcoming vibe to the guests.
Hopefully, this article is helpful for you to learn 5 different ways of cleaning olive tree leaves that can be applied without any worries not only to the potted trees but all other houseplants.
If you know any other effective ways on how to clean indoor olive tree leaves, leave us a comment – we are happy to share with our olive tree growers' community!
Read Next
Related Topics
Are You Looking to Buy an Olive Tree? 
If you are looking to add more potted trees or other plants to your orchard, or if you like to replace a neglected olive tree, the best places to get them are your local nursery or an online nursery.
One of the most reliable and the world's largest online nurseries is Fast Growing Trees. They deliver fast, neat, and healthy plants backed with a 30-day guarantee.