This post may contain affiliate links which may generate a small commission from clicks that result in a purchase.
Olive oil is known as an essential healthy food ingredient, but can it help rejuvenate your hand skin? The ancient Egyptians, Romans, and Greeks certainly thought so, using olive oil in their daily skincare routines.
Scientific research seems to back this up too, showing olive oil prevents UV damage and premature aging. Your hands are particularly at risk from premature aging because of frequent washing and sun damage, but can olive oil really help?
We take a look at what makes olive oil for wrinkled hands so good and learn 3 olive oil treatments to improve hand skin.
What Causes Hand Wrinkles?
There are a few causes that could be contributing to the chance of having wrinkles on your hands:
Genetics
Some people will be more prone to wrinkles than others.
Sun Exposure
Ultra-violet rays produce more free radicals that attack skin cells.
Smoking
Nicotine narrows the blood vessels in the outer layer of skin, reducing nutrients and increasing wrinkles. The smoke itself also dehydrates the skin.
Dehydration
Consistent under-consumption of water can cause cell damage.
Stress
Can change the proteins in the skin to decrease elasticity.
These are just some of the causes, and simply using your hands can increase how they age. Washing and drying your hands can also dry the skin directly, increasing the chances of wrinkles.
Some of these problems can be helped with the use of olive oil.
Why is Olive Oil Good for Wrinkled Hands?
Extra virgin olive oil contains many ingredients that are good for the skin. This includes antioxidants, vitamins A, D, E, and K, as well as beneficial fatty acids.
The vitamins can assist in reducing premature aging. They can help reduce oxidative stress which can increase skin aging. Olive oil has some antibacterial properties that can treat infections as well.
Antioxidants protect the cells in the skin from environmental damage and can reduce inflammation. For example, the antioxidants in olive oil have been shown to reduce the chances of skin cancer, another benefit along with fewer wrinkles. In accordance with research, applying olive oil after tanning appears to reduce the chances of cancerous cells forming.
Damage from the sun can be reduced by massaging olive oil into the skin. Olive oil can increase cell turnover, which will make the skin look smoother and prevent so many lines from being formed.
Olive oil also helps keep your skin moisturized. Applying it to your skin leads to more water content being held within, giving your skin a healthier appearance. Though it doesn't necessarily add more water to the skin, it can be used after moisturizer to lock in more water. More moisture in the skin will give it more elasticity, preventing wrinkles from being created.
Best Olive Oil for Hand Wrinkles
You should choose extra virgin olive oil for your hand skin, as it contains more vitamins and minerals thanks to the way it's made. This is the highest quality olive oil available and is made of pure olive juice.
Therefore, Kalamata olive oil is known as one of the best extra virgin olive oils around the world. It is a PDO Kalamata olive oil and is widely recognized due to its superiority in quality and taste.
If you are looking for the highest quality olive oil, our Oliviada olive oil is 100% pure unfiltered Kalamata extra virgin olive oil made in Messinia, Greece. It is not only polyphenol-rich olive oil and a great antioxidant but also is considered a beauty product and has great benefits to your hands and skin.
Can Olive Oil Reverse Wrinkles?
Olive oil is more effective at preventing wrinkles from forming in the first place, rather than reversing the aging process. The benefits will depend on the extent of skin aging and hydration, but applying olive oil can reduce the appearance of wrinkles.
Keeping more moisture within the skin, and the nutrients contained in olive oil can help the skin to repair the damage. It has shown some benefit to helping scars heal, so should have a positive effect on wrinkles as well.
How to Use Olive Oil for Wrinkled Hands? 3 Best Treatments
You can simply put a few drops in the palm of your hand and rub them in, to moisturize your hands when they are dry. Reapply olive oil to your hands as you need to during the day to keep them moist.
But if you want to maximize the benefits, there is more you can do.
Start by exfoliating your hands. You can mix olive oil with natural sea salt, rubbing your hands together to exfoliate the skin. Then wash this mixture off your hands.
You can then apply your extra virgin olive oil. Rub in a fair amount of oil, and if you do this before going to bed, you can use cotton gloves overnight. In the morning, wash the oil off with warm water. You should find that your hands are noticeably smoother after following this simple process.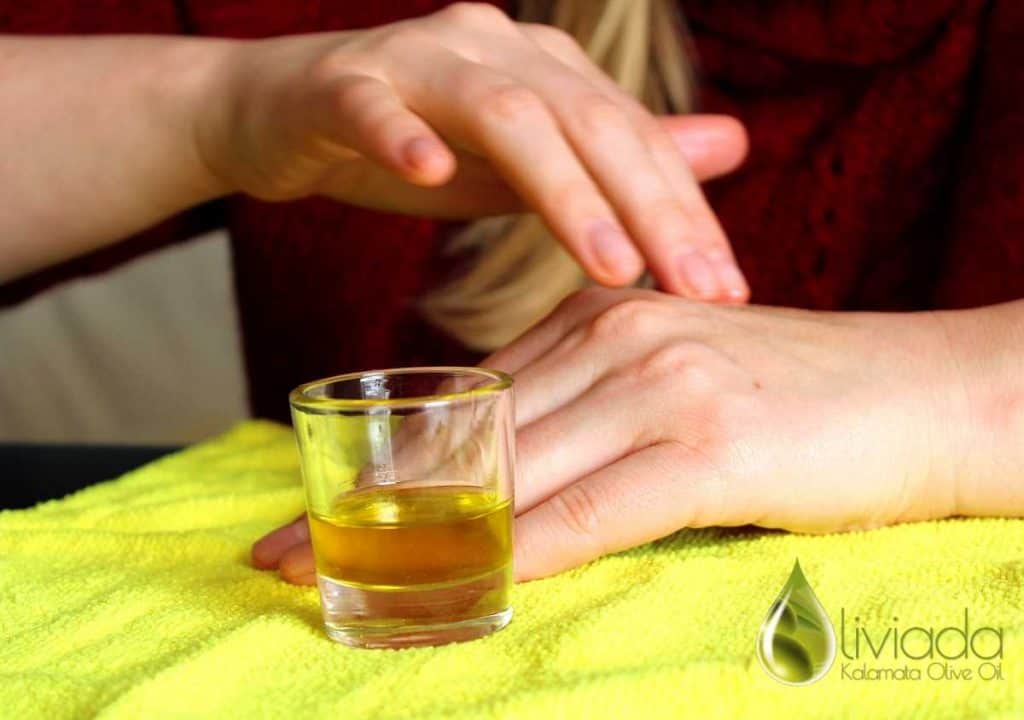 3 Best Olive Oil Treatments for Wrinkled Hands
For regular hand care, try to use these olive oil treatments for your hands and improve their look and overall skin health.
1.     Olive Oil and Lemon Juice for Hand Wrinkles
Olive oil and lemon juice treatment cleanses the hand skin and tightens the pores. It contains vitamin C that enhances the hands' skin elasticity and reduces wrinkles. The curdled milk moisturizes your hands.
Ingredients You Will Need
1 tablespoon extra virgin olive oil
A few drops of lemon juice
1 teaspoon raw milk
How to Make it Work?
Add the lemon juice to the milk and mix until the milk curdles.
Add the extra virgin olive oil to this and mix well.
Apply this mixture on your hand skin and massage for 2-3 minutes.
Leave it on for another 15 minutes and then rinse it off.
How Often You Should Do This
Repeat this every day.
Caution
Do not use milk in this treatment if you are allergic to dairy products.
2.     Olive Oil and Honey for Hand Wrinkles
Olive oil and honey do their magic since both ingredients are rich in antioxidants that heal damaged skin. This treatment will eventually iron out the hand wrinkles and give your hand skin a wonderful glow.
Ingredients You Will Need
1 tablespoon extra virgin olive oil
1/2 teaspoon raw honey
How to make it?
Mix the olive oil and honey.
Apply this mixture to your hands and let it sit for about an hour.
Rinse it off with water.
How Often You Should Do This
Repeat this once every day.
3.     Olive Oil and Vitamin E for Hand Wrinkles
Olive oil and vitamin E treatment is extremely efficient because vitamin E hydrates the skin and suppresses the unhealthy dryness that may be a cause of the hand wrinkles. It also contains antioxidant tocopherol that helps to rejuvenate dull and aging skin.
Ingredients You Will Need
1 vitamin E capsule
A few drops of extra virgin olive oil
How to make it work?
Pierce the vitamin E capsule carefully and pour the contents into a bowl.
Add the olive oil and mix well.
Massage this olive oil and vitamin E blend on your hands for a few minutes.
How Often You Should Do This
Do this every night.
Conclusion
Though there are various cosmetic treatments to reduce hand wrinkles in the market, olive oil is the safest way to go. Regularly use one of the olive oil treatments discussed above which reduces premature aging and encourages the regeneration of cells in your skin. Also, it effectively fades away hand wrinkles and makes your hand skin firm.
This is all about extra virgin olive oil for hand wrinkles. Start using this multipurpose ingredient today, and make your hands look young for long!
Note: the olive oil market is saturated with fake olive oils, so always make sure you get the highest quality extra virgin olive oil, ideally from a respectful olive oil producer. For more information, check out our guide on olive brands to trust and how to choose the best one.
Do you know of any other ways on how to use olive oil for wrinkled hands? Tell us by leaving a comment below.
Read Next
Related Topics
Hi, I'm Vangelis Kleftogiannis, the founder of Oliviada and an established olive oil expert from Kalamata, Greece. My expertise isn't just in producing quality Extra Virgin Olive Oil, but also in the cultivation and care of olive trees themselves. I am deeply committed to sharing my knowledge and know-how, helping others understand the intricacies of olive tree growing and the creation of quality olive oil.