This post may contain affiliate links to help the reader find relevant products. We get commissions for purchases made through links.
There are multiple reasons to grow an olive tree indoors or in your backyard. Scientific studies have shown that olive trees and other plants reduce stress and improve air quality. However, acquiring new olive trees can become costly.  The good news, you can root olive tree cuttings in water – it is an inexpensive way to increase your plant collection.
As well, if you want to multiply your family olive tree a hundred years old, you can try to propagate olive trees from cuttings and continue that magic olive tree growth cycle in your own home.
Let's get prepared and let's follow these steps to root olive tree cuttings in water!
1.     Best Time to Take Olive Tree Cuttings
The best time to cut olive tree cuttings is summer after the new growth has begun to establish itself and harden up. Before choosing olive tree cutting, observe the parent olive tree as a whole – it should look healthy, strong, well-fed. After picking up the best new growth, your new tree has a higher survival rate.
2.     Cut Olive Tree Cuttings Correctly
Examine the olive tree, its stem or branches, and look for a place of new growth on the olive tree.
Use a sharp knife or scissors or pruning shears to cut 1/8-inch (0.3 cm) below this growing node at a 45°angle. Ideally, take an 8-inch (20 cm) long cuttings and be sure to leave a branch you cut from of about 3-inches (7 cm) long at least.
Strip off almost all the leaves from the cuttings – leave only few of them on very top.
3.     Root Olive Tree Cuttings in Water
Put the olive tree cuttings in a glass or jar with water. Poor enough room temperature water to cover the nodes of the olive tree cuttings. Avoid contaminating the water by removing any olive leaves which could fall below the waterline.
You can dip the cut end of the cutting in a rooting hormone prior to putting it into the water to encourage even faster root production and growth. Or you can pre-make natural rooting hormone water yourself and dip olive tree cuttings there.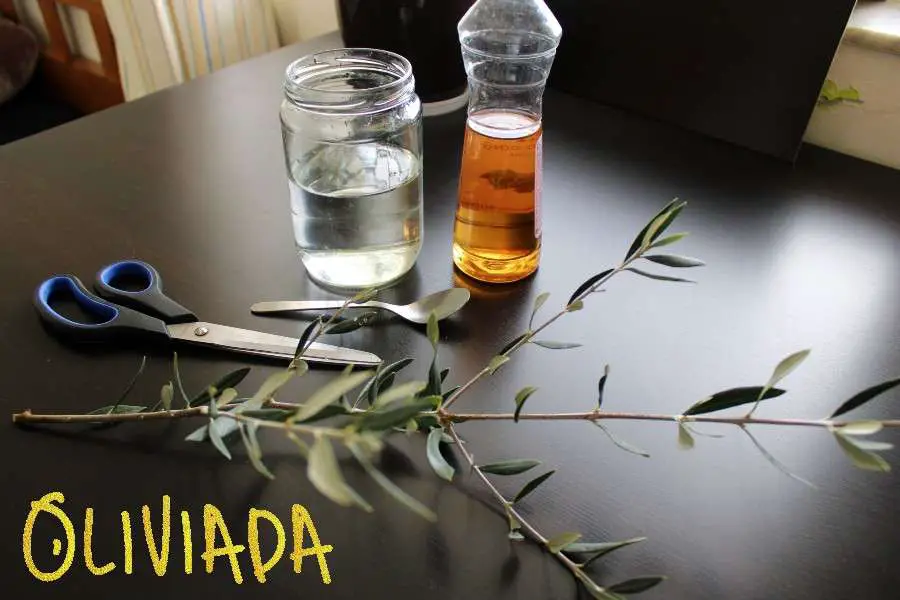 The olive tree cuttings need partial sun and moderate temperatures. A window sill is an excellent location for rooting olive tree cuttings in water.
Last update on 2022-05-31 / Affiliate links / Images from Amazon Product Advertising API
4.     Monitor Your Olive Tree Cuttings Daily
Monitor the olive cuttings daily to ensure the water remains clear. Replace cloudy water quickly to prevent stressing the olive tree. I recommend changing out the water every 4 days with fresh room temperature water.
Discard the olive tree cuttings and water if the root turns brown or begins to rot.
5.     Wait And Watch As Your Cuttings Root
Wait and watch as your new olive tree roots grow!  To root olive tree cuttings in water can take up to 3 – 5 months depending on the olive tree.
The most common mistake when rooting olive tree cuttings in water is not waiting enough for roots to grow and toss the cuttings in a week or two. Give it lots of time, weeks to see the first roots coming out. If the actual olive tree doesn't die itself, just wait – that means roots are probably still on their way.
6.     Plant Olive Tree Cuttings When Roots Are Ready
Olive tree cuttings are ready to plant in soil when the roots are at least 3 to 5 inches (7.5 to 13 cm) long. Be careful with the new young olive tree as the roots are sensitive.
Prepare soil when planting olive tree and gently transfer the olive tree into a more permanent home and return to a partially shaded location.
Check out our complete guide on how to plant olive trees in container or pot.
Conclusion on How to Root Olive Trees in Water
Olive tree cuttings grow into mature olive tree faster than growing olive tree from seeds. Also, another great way to grow olive tree is to propagate olive trees from cuttings in soil instead of water.
If you have followed the steps described in this article and have a lot of patience, then you will be able to multiply the pre-existing resources and propagate your own olive trees. By adding a nice bow on a pot of your young olive tree, you can give it as a gift to your friends or family!
Thank you for visiting and happy growing!
Read Next
HOW TO GROW OLIVE TREES FROM SEEDS?
Learn More
Join our Facebook community: Olive Tree Growers and Enthusiasts