This post may contain affiliate links to help the reader find relevant products. We get commissions for purchases made through links.
Knowing watering requirements for olive trees growing in pots or containers is very important since one of the biggest problems with olive trees in pots is too much or too little water. In order to help you to answer the questions when to water your olive tree and how often, there is a great tool – a moisture meter for olive trees and other plants. It measures humidity in the soil which has fundamental importance to the biological processes of every plant. As well, a moisture meter is handy if your olive trees grow in big pots or containers and there is no way to check the moisture by sticking your finger inside the soil.
So by using a moisture meter, even experienced growers and hobbyists will know when to water the olive trees to be assured of consistent soil moisture for their plants. And this article will explain in more detail how to use a moisture meter and water your olive trees with confidence.
What is Moisture Meter?
Moisture meter defines soil moisture by using its moisture sensors such as electrical resistance blocks and tensiometers in order to measure water content held in the spaces between soil particles.
 A plain moisture meter is easiest to use for quick plant checks, it measures moisture instantly and, a good thing, you don't need any batteries. It's great for indoor plants.
Other more complex moisture meters may need a longer time to reveal full results and may need to be charged prior to use. These advanced moisture meters mostly used for a large garden, crop field, or pasture.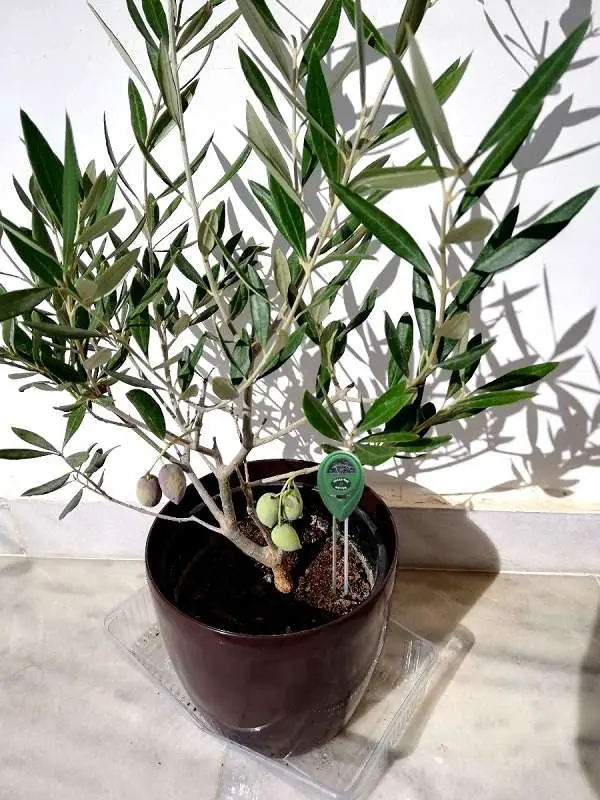 What is The Best Soil Moisture Meter?
The three-in-one moisture meter is considered to be the best moisture meter, especially for potted olive trees. It is easy to use, accurate, not very expensive, and has 3 functions:
tests soil moisture to prevent overwatering
assess a sunlight level required to boost olive tree growth
measures soil acidity or pH to improve overall olive tree health
Definitely, this moisture meter can be helpful to rule out many issues with your potted olive trees and other plants and avoid the most common olive tree overwatering symptoms.
This is three-in-one moisture meter that I recommend and is best seller on Amazon:
Last update on 2023-03-03 / Affiliate links / Images from Amazon Product Advertising API
How to Use Moisture Meter?
It is relatively straightforward to use a moisture meter for olive trees in pots as logs as you do it correctly. By following these steps you will use it in the right way without making the most common beginner's mistakes.
1.     Prepare Your Moisture Meter
Unpack your new moisture meter. Moisture meter has a head (gauge) and the probe(-s) that points to the end.
Or clean the probes with dry cloth if you have just used for other plants.
2.     Insert Moisture Meter in the Right Place
Then, hold the head of the moisture meter and insert the probes into the soil correctly. The best place to take the moisture readings is halfway between the center of your olive tree and the pot, then halfway down into the pot.  This measures the soil moisture in the middle of the soil surface and roots. For larger pots or containers, it is recommended to take 2 to 3 readings in different spots to assess the overall situation.
For example, if you touch the top of the soil with a moisture meter it may feel dry. But if you stick a moisture meter down into a pot, you will see that the roots are quite wet and no need for watering. As a result, stay consistent and insert the moisture meter in the same place each time to get more accurate readings.
3.     Take Accurate Reading
Keep the moisture meter about 5 – 8 seconds as it enters the humidity reading zone. Then check the reader results to assess the humidity level in the soil of the olive tree. Check out a section down below on how to read moisture meter for olive trees.
4.     Take Out Moisture Meter
After you assessed the soil moisture, do not leave the meter in the soil for too long as it can damage the tool. After you take each reading, wipe off the probe and keep the moisture meter clean and put it in a dry and safe place.
5.     Monitor Soil Moisture frequently
Use the moisture meter to spot-check your potted olive trees and decide if you need to water it. Up until you set up your olive tree watering routine, I recommend checking the soil moisture once per week.
How do You Read a Soil Moisture Meter?
Most common moisture readers have a gauge that shows the water content on a scale of 1 to 10, with 1 being most dry and 10 being most wet. Other moisture meters have a color range of red, green, and blue.
As for olive trees, the ideal humidity is 50% to 60%. That means, water them when the moisture goes under 40%. If we speak on a scale of 10, the ideal soil moisture is between 5 to 6. So water your olive tree when the gauge goes to 1 or 2 since it's a good practice to let the olive tree to dry fully in between waterings.
In other cases with a color scale, you should water the olive tree when the scale enters a red color zone and keep the plant happy in the middle of the green scale.
After watering your olive tree, it is normal that the scale reaches 10 or maximum in a blue zone.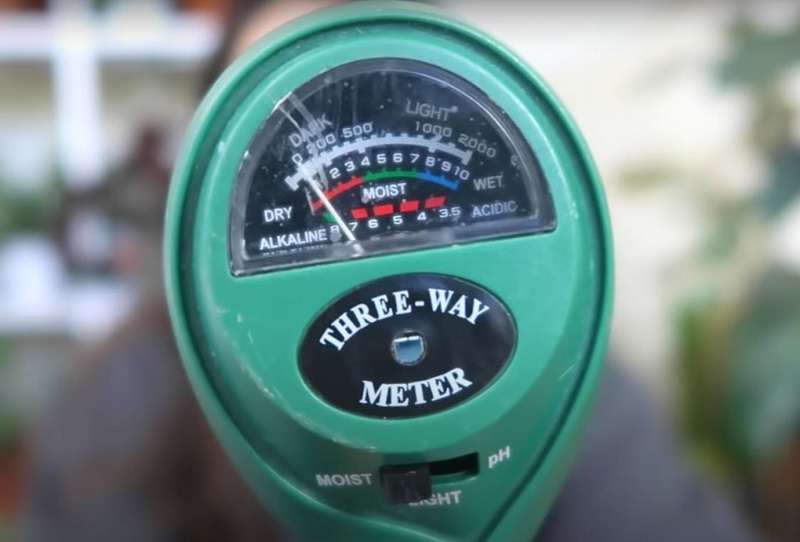 How to Take the Most Accurate Moisture Readings?
Without a doubt, it matters a great deal how you take the moisture readings. If you stick the probe at the top of the soil, it may show completely dry. There as, if you measure the humidity all the way to the bottom of the olive tree pot, it reads wet. This difference in moisture is caused by gravity.
As well, your moisture meter readings show a wetter close to the center of the olive tree comparing to the outside of the pot or container where the soil tends to be dryer.
So always make sure you take the moisture readings from the same exact place each time, ideally halfway between the center of your tree and a pot, and halfway down into the pot or container.
Olive Tree Moisture Tips
Leave the olive tree to dry completely between waterings – water when moisture meter shows green color or is below 4 on a scale of 10
Olive tree moisture motto: better dry soil than damp – so keep moisture meter close to the red-green zone since olive tree needs a moderately humid soil
In winter water less your olive tree as no need to encourage growth – the soil moisture should be low or in the red zone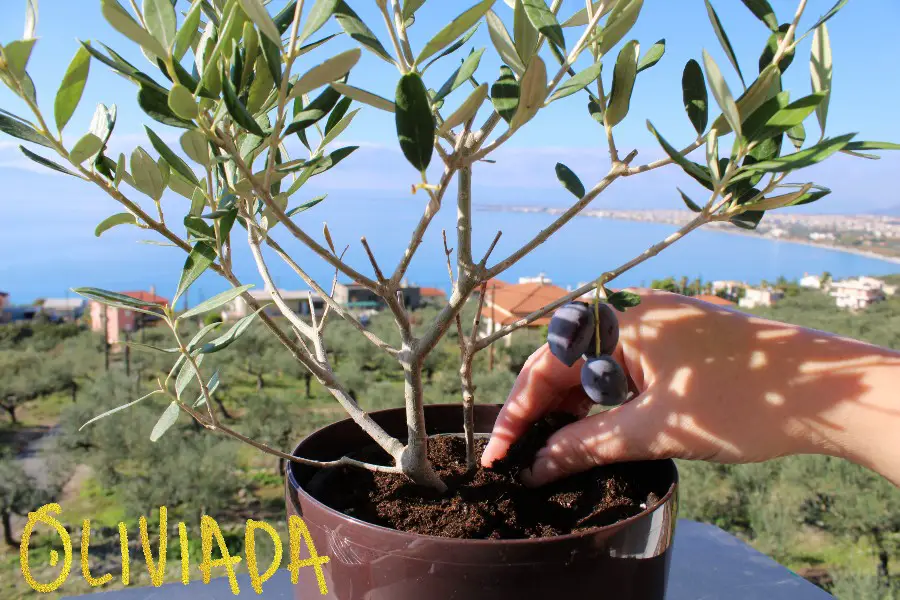 Generic FAQs
Are Soil Moisture Meters Accurate?
Yes, soil moisture meters are accurate as long as you stick them in the same exact place in the pot or container. However, the moisture meter may give you false results:
1. if the tool is broken and needs to be fixed or replaced (for example you stick it into dry soil and it shows wet results)
2. if the soil has too much salt, the moisture meter won't work when the soil is full of salt
Can You Leave Moisture Meter in Soil?
No, it is not recommended to keep a moisture meter in the soil for too long as it can damage the tool. You must keep the probe of the moisture meter clean and dry in order to provide accurate moisture reading results.
What Level of Moisture is Acceptable?
Ideal moisture for plants is 50% to 60%. It may go higher during and after the watering. For the olive trees, the lower moisture is preferable comparing the higher.
Conclusion: Moisture Meter for Olive Trees
You can monitor your olive tree soil moisture by digging into it and observing the moisture levels with your fingers. However, this method is time-consuming and is not accurate. For this reason, I recommend always using a moisture meter which will do this job for you!
Since olive trees in pots need moderately humid soil, a moisture meter is handy for checking the soil moisture of olive trees in order to set up a watering routine and caring for your plants. Keep the olive tree soil humidity in the meter's green zone and water when it is red (or below 2). Try not to reach the blue zone as it may show olive tree overwatering symptoms. Other than that, maintain regular care of your olive tree and it will bring so much love and join into your home.
Hopefully this article saved you a headache and time in checking when is a right time to water your plants and how to use and read a moisture meter for olive trees in pots.
Grab the Essentials for Your Olive Tree
Available best selling products on Amazon:
Last update on 2023-03-03 / Affiliate links / Images from Amazon Product Advertising API
Read Next
Learn More
Join our Facebook community: Olive Tree Growers and Enthusiasts
Are You Looking to Buy an Olive Tree? 
If you are looking to add more potted trees or other plants to your orchard, or if you like to replace a neglected olive tree, the best places to get them are your local nursery or an online nursery.
One of the most reliable and the world's largest online nurseries is Fast Growing Trees. They deliver fast, neat, and healthy plants backed with a 30-day guarantee.