This post may contain affiliate links to help the reader find relevant products. We get commissions for purchases made through links. Thanks
Whenever we have guests at home or visitors at our olive grove in Kalamata, along with our produced olive oil tasting, we offer them to taste different appetizers made with our fresh olive oil.
One of them is olive oil herb dip where the herbs are chopped fine with a sharp knife, their flavor is released into olive oil and transforms this beneficial oil into an astonishing dip for dipping crusty bread. After tasting it, people leave our home with a big smile and a new dip recipe idea in their pockets.
So today I would like to speak about the different herbs for olive oil dip, the best olive oil selection, and its benefits.
What to Mix with Olive Oil to Make it Taste Better?
For us, Greeks, olive oil is part of our lives. We use olive oil everywhere and on everything. However, some people are not used to this distinct robust taste of pure olive oil and prefer to mix it with an acid like lemon juice or balsamic vinegar, roasted garlic, or herbs to make it taste differently.
In general, you can infuse olive oil with almost anything—from garlic to rosemary. So if you want your olive oil to taste fruitier and more herbal adding a pinch of herbs will do the trick.
Let's see the most common olive oil herb dips you can choose from based on your taste and menu.
Fresh Herb Olive Oil Dip
You can mix and match various fresh herbs to find out the flavor you like the most and here is a list of fresh herbs you will need for your experiment aside from salt and pepper:
Oregano
Basil
Parsley
Rosemary
Mint
Thyme
Chives
Tarragon
When preparing fresh herb olive oil dip, chop up your herbs or use a food processor, don't leave them in large clumps.
In addition, you can add the following ingredients to spice up fresh herb olive oil dip:
Red pepper flakes
Onion powder
Garlic powder
Roasted garlic
Fresh minced or crushed garlic
Easy Fresh Herb Olive Oil Dip Recipe
One of the quickest and easiest recipes of fresh herb olive oil dip is to add oregano, basil, rosemary, red pepper flakes, salt, and pepper in a small bowl or appetizer plate.
Then to chop some garlic and mix it with fresh herbs and spices.
Finally pour quality olive oil over this mix and stir gently to combine. Leave it for 20 minutes at least to infuse the magical flavor and enjoy it freshly made!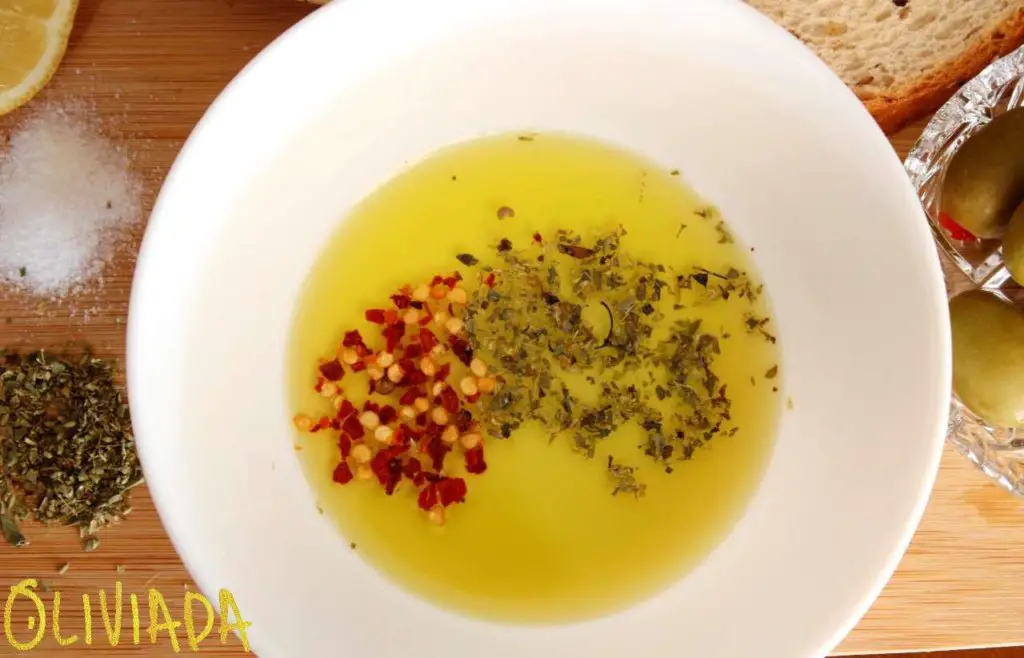 Dried Herb Mix for Olive Oil Dipping
You can use dried herbs instead of fresh ones for olive oil dipping. Therefore preparation time is the only downside of dried herb oil dip. Dried herbs need more time to soften in oil and extract their unique flavor. It's best to leave dried herb olive oil dip for infusion at least for few hours before serving, ideally overnight.
Mostly all dried herbs can be used in olive oil bread dip and here are the most common herbs used for this purpose:
Basil
Thyme
Oregano
Mint
Chives
Rosemary
As an addon flavor you can use the following spices:
Dried Chipotle peppers
Toasted saffron
Pink peppercorns
Fresh or roasted garlic
Salt and pepper
Greek Seasoning for Olive Oil Dipping
Greek seasoning is a perfect mixture of Greek flavors, savory dried herbs, and scented spices. It is a great way to add authentic flavor to olive oil bread dipping.
First, you need to prepare homemade Greek seasoning if you don't have a ready one. Here are the common ingredients you need to make it:
Greek oregano
Dried dill
Dried parsley
Dried marjoram
Dried thyme
Garlic powder
Onion powder
Depending on a blend and your preferences, other spices may be included:
Basil
Cinnamon
Nutmeg
Salt
Black pepper
You can mix Greek seasoning with olive oil, balsamic vinegar, and lemon to make a bread dip or simply with olive oil only.
In addition, Greek seasoning for olive oil dipping is compatible with vegan, paleo, keto, and whole30 diets and can be used to improve the flavor of any dish.
Rosemary Dipping Oil
I always use fresh rosemary for olive oil dip since dried one is very tough and takes a long time to soften in oil. In general, the flavor of fresh rosemary will infiltrate through the dip faster than with dried rosemary.
If you want to add some punchy flavor, mix some fresh or roasted garlic in your chopped rosemary and pour over extra virgin olive oil.
It's best to consume rosemary dipping oil on the same day, otherwise, you can keep this rosemary olive oil dip in the refrigerator for up to 3 days. Then it will start to lose some of its tastes.
Why Olive Oil Herb Dip is Good for You
Obviously, olive oil is the main ingredient in olive oil herb dip. And olive oil is a healthy fat and naturally loaded with antioxidants and other nutrients when it is of good quality.
Multiple studies have proven that healthy fats and antioxidants found in olive oil can offer some powerful health benefits such as the ability to fight inflammation, reduce risks of cardiovascular diseases, and have positive effects on genes linked to cancer.
So by choosing the best quality olive oil, you not only upgrade the flavor and aroma of your meals but also support your wellbeing and nutrition.
Best Olive Oil for Dipping Bread with Herbs
The finest oil is premium extra virgin and extra virgin olive oil which are the highest grade pure unprocessed olive oil. Olive oil grades are based on the techniques used to harvest and press the olives, acidity, and flavor.
Also, premium extra virgin or extra virgin olive oil has a low acidity level, for this reason, these oils are best used for dressings, herb dips, so that you may experience and enjoy the robust aroma and flavor.
For example, Kalamata olive oil is recognized as one of the best olive oils around the globe. If you are interested to use this olive oil as your healthy ingredient, I genuinely suggest trying our Oliviada extra virgin olive oil which is 100% pure olive juice squeezed by a local  Greek family in Kalamata, Greece.
Generic FAQs
How Long Do Fresh Herbs Last in Olive Oil?
Olive oil infused with herbs makes a tasteful combination but tends to go rancid very quickly. If you use fresh herbs in olive oil, it will last around a month. But it will remain at peak quality for up to 2 weeks. Keep it in a glass container in the refrigerator to extend the shelf life and life of olive oil.
Can I Put Dried Herbs in Olive Oil?
Yes, you can put dried herbs in olive oil and leave them overnight for a better infusion. You can mix oregano, basil, rosemary, thyme, chives, mint, and almost any other dried herb you find in your cupboard. The best flavor you will find through experimenting!
What Can I Dip In Olive Oil with Herbs Besides Bread?
Besides crusty bread for oil dipping, you can use crackers, tortilla chips, crisps, breadsticks, and pretzels.  Also, you can drizzle your olive oil dip over your pasta, pizza, steak, mashed potatoes, or vegetables, it will add more flavors to your main dish.
Can I Use Vegetable Oil Instead of Olive Oil for Dipping Bread?
You can substitute vegetable oil for olive oil. However the oil quality and nutrition level won't be the same. Olive oil, particularly extra virgin, is considered to be the best among oils. It is unprocessed oil, that has a high level of antioxidants providing numerous health benefits, is loaded with vitamins and minerals.
Final Thoughts
A simple appetizer like olive oil herb dip with bread has the power to take your food experience to the next level, and all you have to do is to season olive oil with your favorite herbs and leave it for few minutes to infuse. I usually serve a small bowl of Kalamata olives and cheese on the side as well, which tastes really good with this dip!
Also, quality extra virgin olive oil is compatible with popular diets like keto, paleo, vegan, or whole30. In fact, it's encouraged to include healthy fats in your daily menu. So, have fun experimenting and prepare various flavors of homemade infused olive oil following these simple infused olive oil recipes.
Read Next
Learn More