The easiest way to make a beautiful home décor is to add some lush green trees in pots. And there is no denying that a real olive tree could be an unbeatable accessory to your home. However, what should you do if you don't have perfect conditions to grow it in your region or if you are traveling a lot and cant take care of your plants?
Then the simple solution is to replicate outdoors with the faux olive trees. The best faux olive trees should be made by respective companies from high-quality material with silk leaves and graceful trunks. Ideally, most parts of the faux trees should be handmade that creates this luxurious and lifelike realistic look. The best thing about faux trees they never drop leaves down or look neglected and there is no need to worry about watering or fertilizing when you are away on travel. No matter the size, a faux olive tree can give you the look you're going for without all the fuss.
When you are searching for faux olive trees, they are often referred to as artificial or silk olive trees. By the way, the silk name originates from a bygone era ( 19th century) when trees were made from silk, the only available material, that could roughly embrace the shape and look of tree leaves. However today with modern technology, faux olive trees are skillfully recreated that they look identical to the real olive tree.
There are some exquisite reproduction olive trees out there to style any space in your home or outside in the backyard. So today in this guide, I will be reviewing my top 5 picks based on customer reviews and recommendations to help you choose the best faux olive trees. As well, provide thorough guidelines on what to consider when buying your first artificial olive tree.
Quick Overview of My Top 5 Best Faux Olive Trees
| My Award | Click Faux Olive Tree Name to Read Review | Click on Image to Check Latest Price on Amazon |
| --- | --- | --- |
| My Top Pick/ Best Value & Look | Nearly Natural 82″ Artificial Silk Olive Tree | |
| Best Outdoor Option | Binnny Flower 72″ Artificial Silk Olive Tree | |
| Best Topiary Option | Nearly Natural Topiary Silk Olive Tree | |
| Best Small Size Option | Flora Bunda 28″ Artificial Olive Tree | |
| Best Contemporary Look | Artificial 72″ Olive Tree in Large Stone Planter | |
Benefits of Faux Olive Tree vs Real Olive Tree
No Problems Related Natural Growth
You don't need to be an expert and deal with problems while growing real olive trees in pots. Because faux olive trees never outgrow their pots, the leaves will never droop down or turn yellow. You won't need to deal with olive tree diseases or illnesses.
No Watering or Fertilizing
One of the most common problems with real olive trees is related to over-watering. However, for a faux olive tree, you don't need to worry about how much to water or how often to fertilize. Even if you go on holiday or on a regular business trip, you no longer would need to ask another favor from your neighbor.
Artificial trees are safe and won't give you any allergies versus the flowering stage of the real tree growth cycle. So allergy-prone people benefit from these faux olive trees.
Indoors faux olive trees won't attract any bugs or insects from outside, so you won't need to find a solution to get rid of them.
All you need to do is to clean your faux olive tree when it gets dusty by spraying water on leaves and wiping them with clothes. Or simply clean the dust from the tree with microfiber. As well, you can spray them with a pleasant home deodorant and it will give an even better vibe to your place.
What to Consider When Choosing Best Faux Olive Tree?
In order to choose the best faux olive tree for your home you should consider the following attributes prior to buying:
1. Place
Faux olive trees are not only home decorations, they can also serve as decor items outside the house. These artificial plants look amazing no matter where you place them—in the living room, office, bathroom, or even your backyard. So think carefully about where you want to create a green oasis in your home which adds an instant splash of color in a selected place.
2. Size
After you decide the place you are going to put a faux olive tree, then you should evaluate the size and the height of the space you are going to place the tree. The key is to balance the size of the faux olive tree with the amount of space you are allowed to decorate. If you are going to place an olive tree inside a living room, it is recommended that the tree is at least 6 inches (15 cm) shorter than the ceiling height.
3. Shape
As well, the faux olive tree shape is one of the attributes to consider prior to purchasing the best option for your place. Some of these faux olive trees look branchy and spread out, with a long skinny body.  Others have a topiary shape and fit to a narrow corner.
4. Fruitless or With Olives
There are two types of olives you can find black olives and green olives. Decide on which one you want to put in your room. Or you can pull them out if you do not want them.
5. Basket or Pot
Another thing to consider is a basket, pot or container. Sometimes faux olive trees come with smaller pots, and they look weird in them. So you should put them in a beautiful pot or container to make them look even more realistic and substantial. Here you can find my large pot recommendations for olive trees. Or you can choose a handmade basket.
6. Budget
Last but not least item to consider is a budget. It's not always necessary to spend loads of money on home plants because there are options that still get the best options for a fraction of the price. You can always find the best faux olive trees on a budget and we are here to help you to choose faster in no time.
Overall My Rating: 5/5
Price Range: $$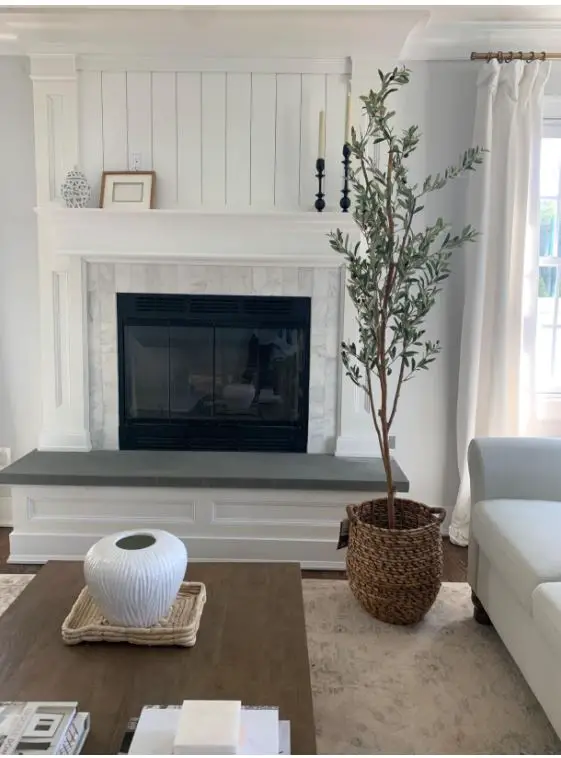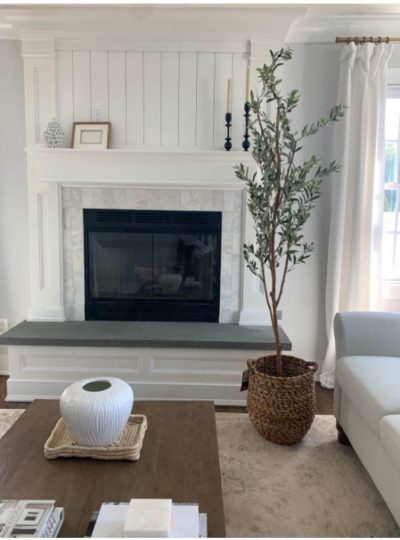 This Faux Olive Tree Overview:
Create a peaceful Zen space in your home with this lifelike faux olive tree. It has a massive height of 82 inches (210 cm) and vibrant silk leaves, this tree is perfect for decorating the corner of your family room or your foyer. It is ideal for your office too to look more peacefully and lovely.
Very little shaping is necessary when this artificial olive tree arrives at your door. In addition, there is no extra care and maintenance is required for this artificial silk olive tree. Though it is recommended to clean the dust with microfiber from time to time.
What I like:
Realistic & Beautiful – Its authentic look would make a beautiful standalone piece.
Great for tall ceilings & tight spaces – it goes well to place in the corner or by the wall in your hall, living room, or bedroom with tall ceilings
Suitable for combining with other real or faux plants
Buying Factors to Consider:
This one has a massive height of 82 inches ( 210 cm). As well, it comes in a small plastic pot you should replace with a larger pot or basket. You can check our recommendations for large pots for olive trees here.
CHECK LATEST PRICE ON AMAZON HERE!
Overall My Rating: 5/5
Price Range: $$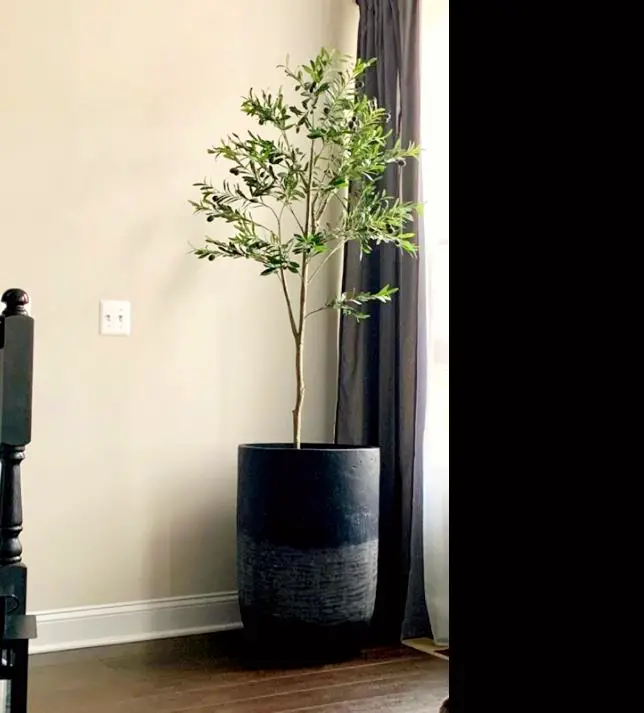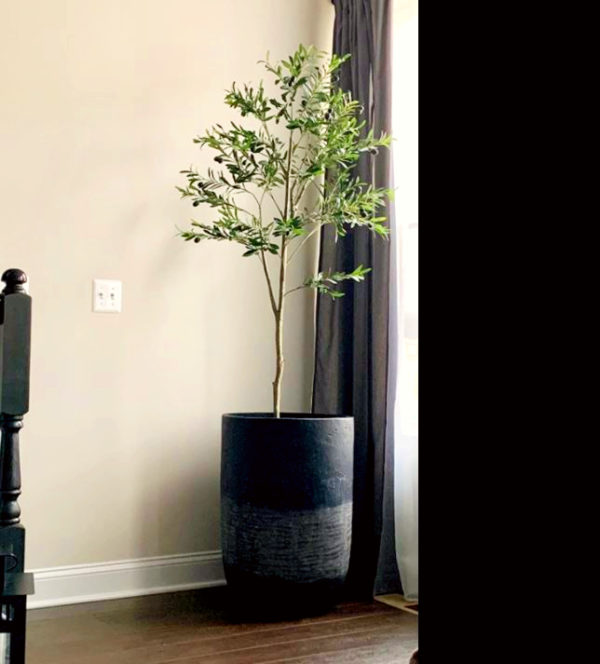 Binnny Flower Silk Olive Tree Overview:
Evoke a slower-paced Mediterranean life with this stunning faux silk olive tree. Lifelike and lush with delicate leaves and a slim trunk, this tree looks very realistic, and placed in the corner of your room makes it more beautiful. You can easily decorate your living room or home office and add stunning and stylish décor to your home. These trees have UV resistant foliage, so it is also suitable for outdoor.
Best of all? You don't have to worry about placing this olive tree in a sunny window, and it's realistic leaves stay green without any watering and are easy to keep clean with a damp cloth. At 72 inches (182 cm) this stylish accent piece is perfect for any spot in your house or outdoors.
What I like:
UV Resistant – suitable for both indoors and outdoors decoration
Realistic & Graceful –whether you place them indoors or outdoors, they retain an authentic and realistic look.
Suitable for combining with other real or faux plants
Buying Factors to Consider:
This one is a large size, available at 72 inches (182 cm) height. It arrives in a small size plastic pot that should be replaced with a pot of your own choices. Place this artificial olive tree in a beautiful pot or basket to enhance its beauty.
CHECK LATEST PRICE ON AMAZON HERE!
Overall My Rating: 5/5
Price Range: $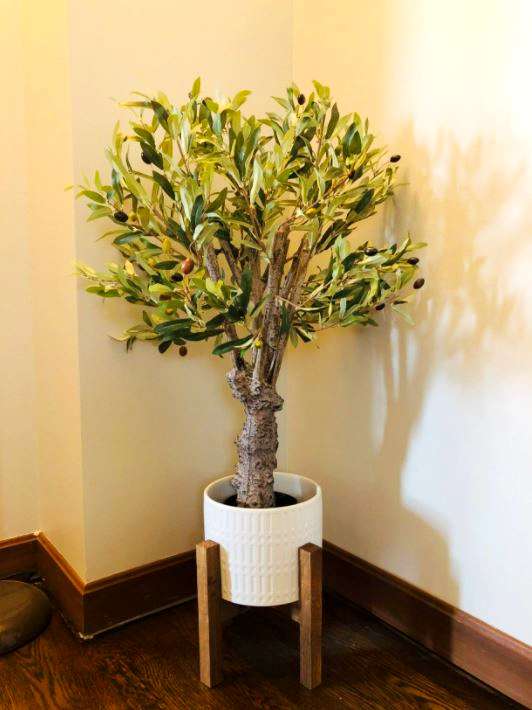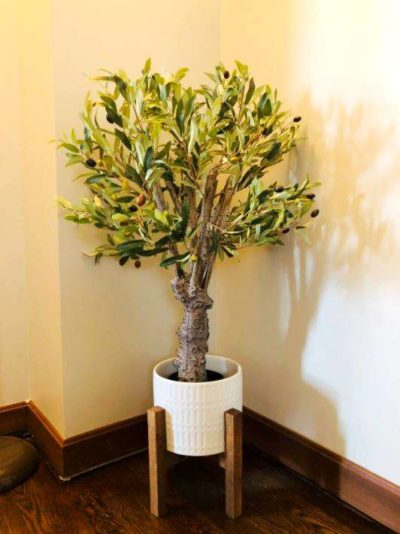 Topiary faux Olive Tree Overview:
If you want to harmonize your indoor space with relaxed, outdoor vibes, this gorgeous, no-maintenance artificial olive tree can help you create a tranquil space anywhere in your home. Cool, crisp leaves, and solid trunks bring the perfect combination of balance and calm anywhere at home or in the office.
Available in medium size will match your décor needs and creates years of fuss-free greenery. You never need to worry about upkeep: it doesn't require maintenance or watering and it is beautiful forever.
What I like:
Cute little tree – this tree is very well made and looks very natural
Great Value for Money
Buying Factors to Consider:
This faux tree is a small size, only available at 30 inches (76 cm). And it comes in a tiny plastic pot, so you should replace it with a new larger terra cotta pot of your own choice.
CHECK LATEST PRICE ON AMAZON HERE!
Overall My Rating: 5/5
Price Range: $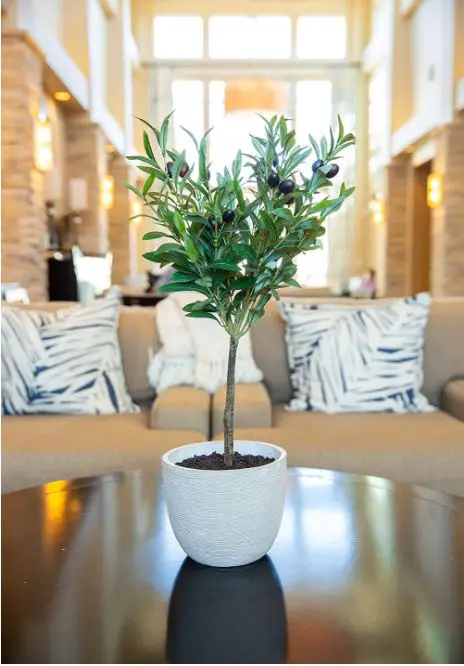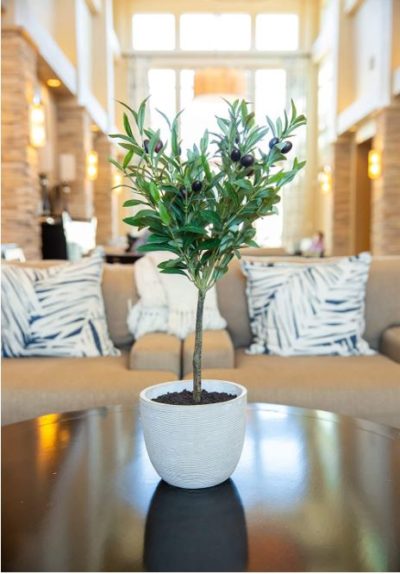 Faux Olive Tree Overview:
Flora Bunda brand artificial olive tree comprises premium quality silk, plastic stems, foam fruits, and they are twistable. You pluck those olives if you do not want them, and you can reinstall it whenever you want. The charm of this olive tree is a symbol of peace and refreshment. You can make your room look vintage, mid-century, or modern look.
You do not need to give them water, sunlight, attention, and extra maintenance. That is perfect for those who want a touch of nature and serenity in their home. These trees are approximately 28 inches (70 cm) in height, and the width depends on the shape of olive stems.
What I like:
Handmade & Cute – Each detail is hand-colored and assembled one by one to get close to a realistic look.
Home & Office Décor – is perfect for a table centerpiece, dress up a bookshelf, windowsill, mantle, coffee table, bookcase, countertop or any place to add vitality and color.
Great Value for Money
Buying Factors to Consider:
This one is a small size, only available as 28 inches ( 70 cm).
CHECK LATEST PRICE ON AMAZON HERE!
Overall Rating: 5/5
Price range: $$$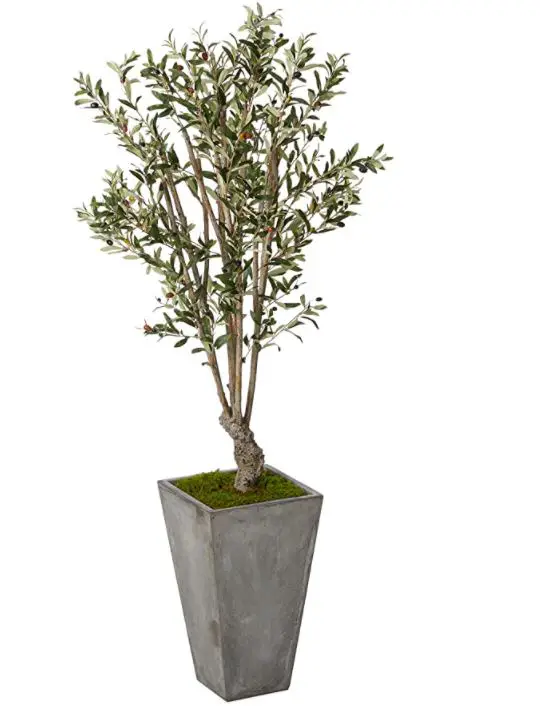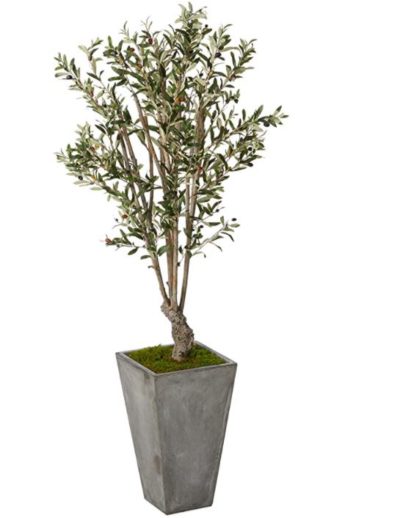 Artificial Olive Tree Overview:
Bright up your home with a beautiful feeling of the Mediterranean with this tall, beautiful, and elegant artificial olive tree. It is ideal for indoor, especially when you place it in your room to complement your decor style. These trees are also looking good if you place it in on your doorway to give a taste of the Mediterranean to your home.
Sturdy and durable, this olive tree fluffs up easily upon arrival at your door and will yield years of enjoyment. Indeed, you don't need to upkeep it: no watering or extra maintenance is needed. True-to-life silk leaves are easy to clean.
What I like:
Convenience: Comes with a Stone Planter – you don't need to search a pot or basket to replace the tree and spend extra money
Can Be Shaped – you can shape it as you like to adjust the branches to fit in narrow spaces or to fill a corner.
Buying Factors to Consider:
This faux tree is a big size, available at 72 inches (182 cm). Normally, artificial olive trees come in small ugly plastic pots, but this one comes in a stone planter and is a bit more expensive. However, you don't need to hassle searching for a larger pot and then transplant it.
CHECK LATEST PRICE ON AMAZON HERE!
Frequently Asked Questions:
Where to buy an artificial olive tree?
You can find artificial olive trees in big stores selling home décor items or you can always purchase online, where Amazon is one of the most reliable online marketplaces, as well you can read customer comments and feedback. If you don't like your purchase, then you can ship it back to Amazon without too much trouble.
How to make an artificial olive tree?
You can make your own artificial olive tree while using faux olive branches and glue them to the stem made from wood, preferable from an olive tree. As a nice accessory, you can put lights on your faux olive tree that makes your room brighter and gives an additional vibe to the room. By making artificial olive yourself, you can create a unique decoration perfectly fit for your home.
What lights I can use with my artificial olive tree?
The best is to use decorative and energy-efficient string lights.  They are flexible and thin but sturdily built, can be easily bent, 360 degrees sparkle with beautiful effect, perfect to decorate your faux olive tree anywhere indoors or outdoor, available on Amazon.
Can I put a faux olive tree outdoors?
Only UV protected artificial olive trees should be placed outdoors because strong sunlight will easily affect green foliage and it will lose color and will look neglected. Unless there is no strong sunlight or if the olive tree is placed in the contact shadow.
How to clean my artificial olive tree?
The cleaning of a faux olive tree is very easy and quick. Just use washcloth or microfiber and dry clean olive leaves and other parts including a pot. If you prefer, you can spray water and then dry the leaves with microfiber – don't leave for air-dry, it is better to dry yourself straight after spraying with water.
Are artificial trees safe?
Yes, absolutely. Faux olive trees cant make you feel allergic or be poisonous to your kids.
Final Thoughts on Best Faux Olive Trees
As we mentioned already, faux olive trees can be a better option for people looking for an easy-care and versatile look to charm any space. They can also survive extreme outdoor weather and indoor lack of lighting.  So, all in all, they are a brilliant catch if you are not able to look after real trees, however, missing greenery touch in your space.
However, if you decide to get multiple plants including a real olive tree, I would like to share a buyer's guide with tips on how to purchase a healthy olive tree for your home decor and a good fit to stand next to faux trees.
I hope this article about the best faux olive trees and my 5 recommendations was short, simple, and informative and helps you to make a decision which faux olive tree to select and decorate your home. Let me know your thoughts or questions in the comments below.