This post may contain affiliate links to help the reader find relevant products. We get commissions for purchases made through links.
There are many synthetic rooting hormones available including liquids, powders, and gels that can promote rapid root growth in olive tree cuttings. But if you an organic gardener or you just prefer natural products, as an alternative to commercial hormones, you can also use common household ingredients and make your own homemade natural rooting hormones for olive trees to aid rooting and act as natural rooting stimulants.
Furthermore, if you are concerned about the chemicals found in the synthesized hormones and you are not willing to buy one, then search stuff at home and use what you have from the following ingredients:
Aloe vera gel
Apple cider vinegar
Cinnamon
Honey
Aspirin
Willow water
Rosemary
Seaweed
These ingredients are naturally antibacterial, antiseptic, and antifungal rooting hormones and may help to prevent fungus and or bacteria from destroying the cutting before it has had enough time to root and ensure faster growth.
To make it crystal clear, I will explain how to use each of these ingredients that can increase the success of your olive tree cuttings to root with these homemade rooting hormones.
Let's begin!
1.     Aloe Vera Gel
If you have aloe plants growing around your house, you can use the freshly squeezed aloe vera gel, as well named as an extract, to make your own homemade natural rooting hormone instead of commercially available to propagate cuttings with success.
Research studies show, that aloe vera works as a potential growth enhancer and protects the olive tree cuttings from bacteria and fungi from entering the stem. These natural plant extracts are a cost-effective and environmental friendly alternative to synthetic plant growth regulators and phytohormones.
Aloe vera's active ingredient salicylic acid is an anti-inflammatory element and rooting stimulant. The same key component is found in the homemade rooting hormones as #5 aspirin and #6 willow tea described below.  
With homemade aloe vera gel close to 100% success is guaranteed!
How to Make a Homemade Aloe Vera Rooting Hormone?
Just squeeze the goo out of the aloe leaves or scrub fresh aloe gel from inside the aloe vera leaves
Then mix it well with a tablespoon of water and you will get a think consistency
Coat your olive tree cuttings in the mixture
Stick your cuttings to the rooting medium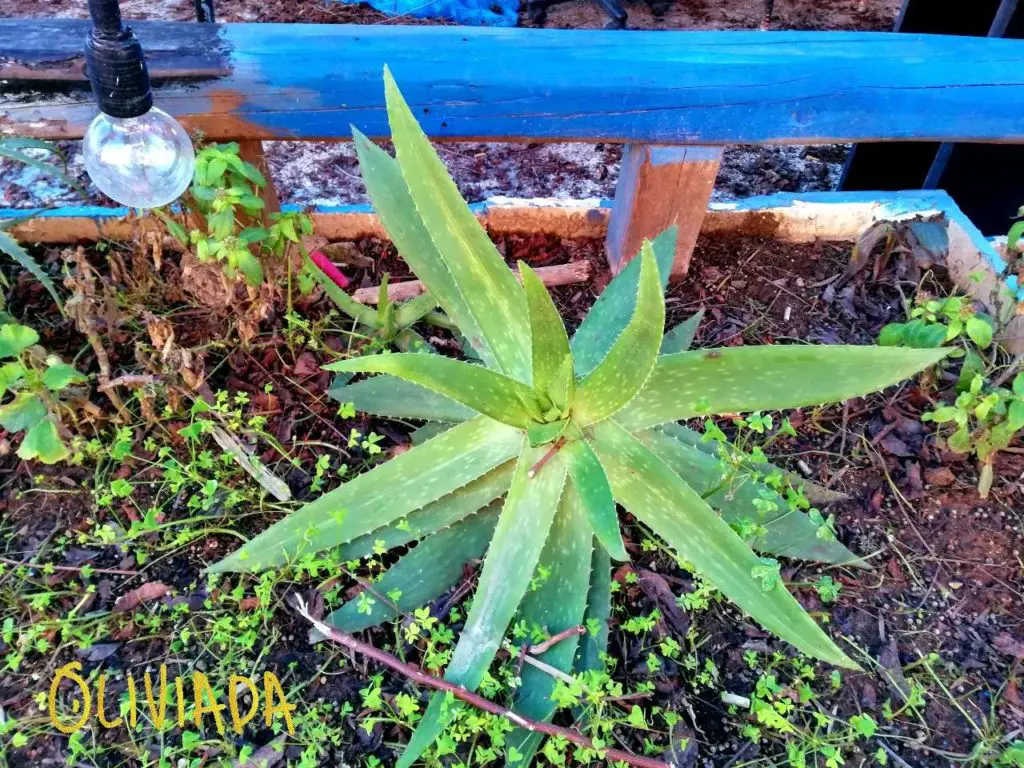 2.     Apple Cider Vinegar
A small amount of apple cider vinegar is one of the most popular ingredients to create organic homemade rooting hormone for olive trees. Go lightly with this ingredient because too much may prevent rooting. As well, vinegar is also a good weed killer.
The acidity in the vinegar prevents microbial growth and using apple cider vinegar as a rooting hormone for olive trees is a great way to give your cuttings that boost they need to grow roots.
You can dip your cuttings into an apple cider vinegar mixture, then add some #3 cinnamon as they both have antiseptic property useful for rooting olive tree cuttings.
How to Make an Apple Cider Vinegar Rooting Hormone?
Pour 0.25 gallon (= 1 liter) of water into a bowl
Add 0.8 teaspoons of apple cider vinegar to it
Dip the cotton of the olive cutting in this mix
Stab the cutting in rooting medium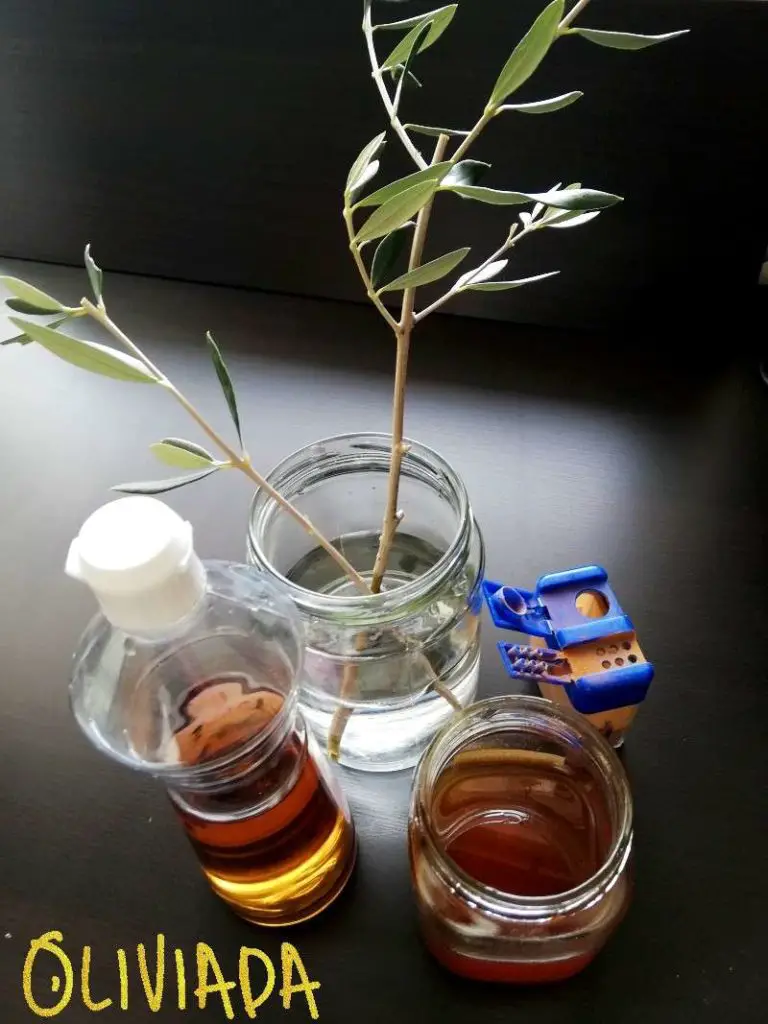 3.     Cinnamon
One of my favourite rooting hormones for olive trees is cinnamon! It smells so heavenly and you can always find it in your kitchen.
Cinnamon acts as antiseptic and kills fungus and bacteria and will keep your cuttings free of disease while rooting. Also, cinnamon is a great spicy to protect from ants invasion since ants do not like this texture.
Apply cinnamon powder only once: coat the ending of olive cutting in a cinnamon fully on all sides and transfer the cutting into potting soil. Furthermore, you can mix and match few ingredients and dip olive tree cuttings in honey or willow tea and then cinnamon as they go hand in hand.
4.     Honey
Honey is not only benefiting your wellbeing but is also a natural antibacterial, antiseptic, and antifungal rooting hormone that will promote your new olive tree cuttings to root faster.
According to Hawai's University research, honey doesn't have the same fast results as a synthetic hormone, it can increase the success rate when propagating olive trees and other plants and you'll see more consistent results than using nothing at all.
In terms of using honey as a rooting stimulator, you can either use it raw or make your own honey mixture described below. If you decide to use raw honey, add a pinch of cinnamon, and dip the cutting in it. Otherwise, the mixture recipe is below.
How to Make a Natural Honey Rooting Hormone?
Boil 2 cups of water
Add 2 tablespoons of honey
Stir it until the honey dissolves completely in water
Turn off the heat and let the pot cool completely
Soak olive tree cuttings in the honey mixture for 2-3 hours before planting
Store your homemade rooting hormone away from the light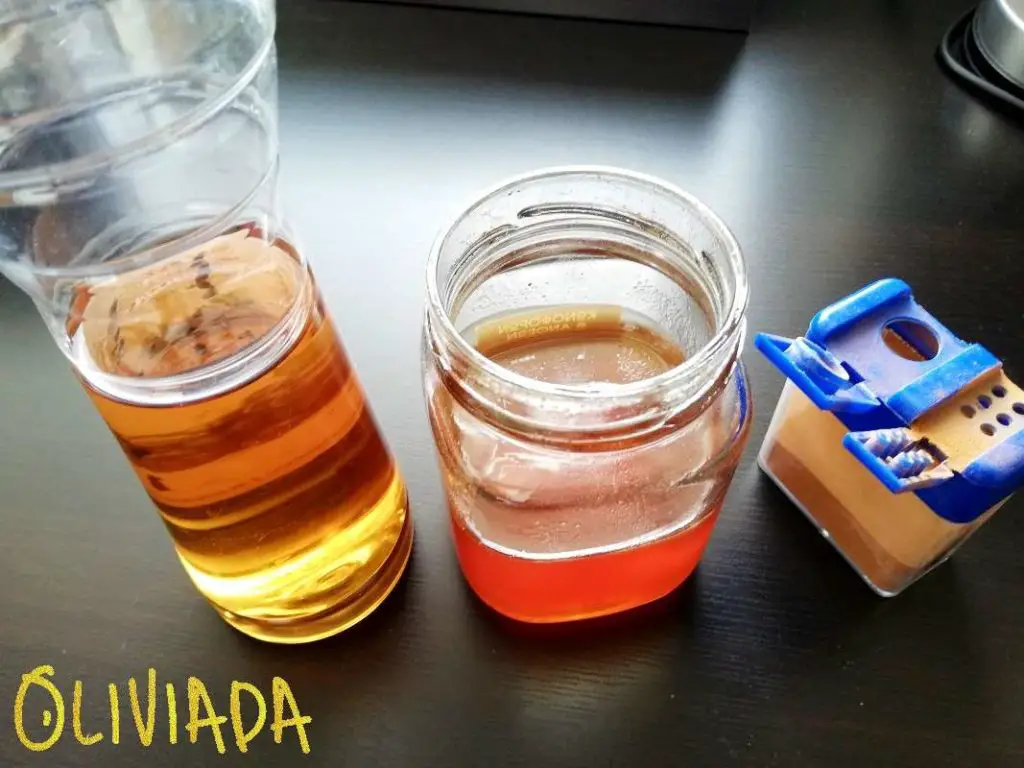 5.     Aspirin
Aspirin is something you definitely have around the home which is an effective and one of the most popular rooting hormones that give this extra jump the cuttings need to grow roots.
Aspirin contains salicylic acid as an active ingredient, which helps prevent bacteria or fungus from forming on your olive tree cuttings so it can develop roots.
In fact, it's rare to achieve a 100% success rate when propagating olive tree cuttings, but an aspirin mixture can help to increase your chance of success.
How to Make an Aspirin Rooting Hormone?
Crush into a powder regular strength aspirin (1 standard tablet 325-mg)
Add it into a cup of warm water
Mix it to fully dissolve aspirin in a water
Dip your cuttings in this mixture and soak for 2-3 hours before potting them in the pre-made rooting medium
6.     Willow Tea
Willow tea, as well named willow water, works fantastic in helping spur new roots faster due to its auxins hormone. By the way, willow bark extract – nature's aspirin – has been used for thousands of years as an inflammatory, analgesic, and antipyretic.
Willows contain salicylic and indole butyric acids, which are natural growth hormones that will stimulate your olive tree cutting quickly form roots once you plant it.
You can make willow tea that has rooting hormones in it at any time, however, willows are the most powerful in the spring when the trees begin to leaf out. So if you're making willow tea in the spring, use only the stems from new growth, and here is how to do that.
How to Make a Natural Willow Tea Rooting Hormone?
Collect 2 cups of willow branches from a new growth
Cut willow branches into small pieces
Add them into boiling water and let it soak few days – the process similar like making tea
Then pour a willow tea into a small jar and place olive cuttings
Leave cuttings there for several hours or overnight and put them in the propagating medium
Another way to use willow water is to use it to water the propagating medium into which the olive tree cuttings have been inserted. Watering the olive cuttings twice with willow water should be enough to help them root.
7.     Rosemary
Another great herb you can find around your home is rosemary which contains natural antibacterial, antiseptic properties. It will prevent fungus and or bacteria from destroying the cutting before it has had enough time to root.
How to Make a Natural Rosemary Rooting Hormone?
Nick off a few dozen rosemary cuttings (2.5 cm size or smaller)
Place them in a small glass vial
Add some water for a few minutes
Dip your tree cuttings in and pot them in the pre-made rooting medium
8.     Seaweed
Seaweed extract acts as a catalyst for the new roots and protects the cuttings from fungus and diseases that may have been introduced during the cutting process. As well, seaweed extracts are known to have stimulatory effects on the growth and development of trees. 
How to Make a Seaweed Extract for Rotting Cuttings?
Soak dried seaweed in a container partly closed with a lid
Infuse the seaweed for several weeks then stain it
Water seaweed extract in at the root zone or used as a foliar spray
Conclusion: Natural Rooting Hormones For Olive Trees
Most of us have never been able to achieve a 100% cutting survival rate. For this reason, take several olive tree cuttings and increase the success of these cuttings to root with one of these natural DIY rooting hormones.
With your DIY homemade natural rooting hormone you can be sure which ingredients your olive tree is exposed to as it grows. For the best results, you can combine several of these natural rooting hormones that you have on hand.
For example, use honey and cinnamon together to kill fungus and bacteria, or dip your olive tree cutting into an aspirin rooting solution and perhaps a few drops of vinegar to promote root growth.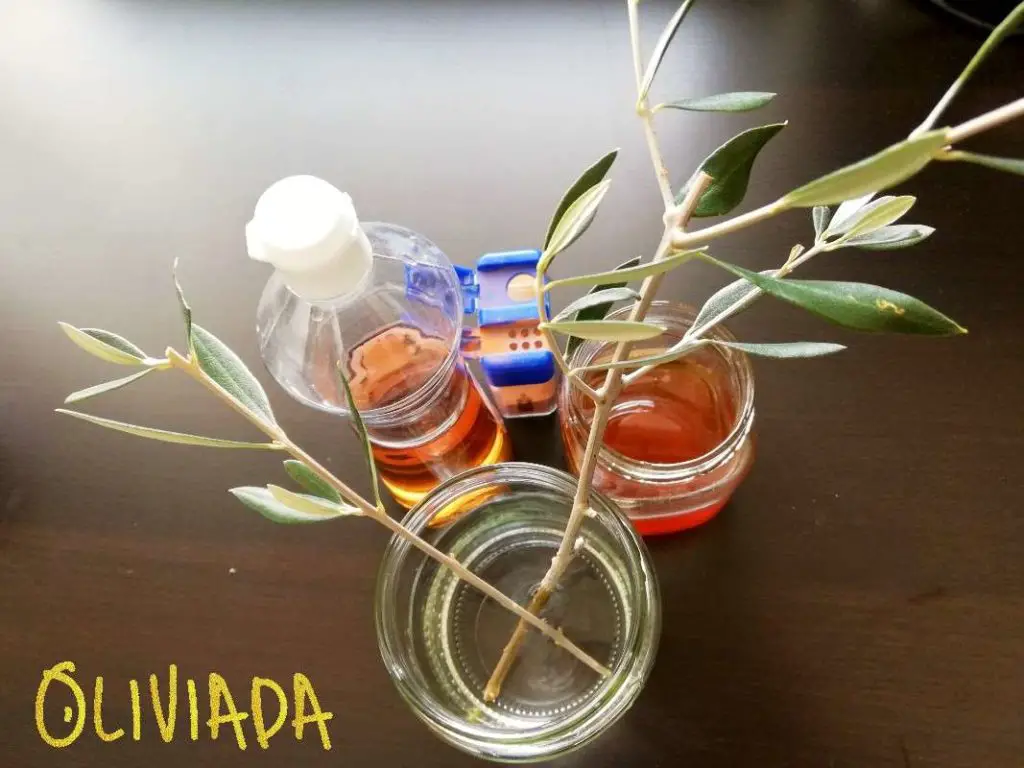 Hope this article gives you many ideas how to make your own natural rooting hormones for olive trees and what ingredients to look for in your kitchen cupboard or around the house.
Let us know what is your favorite way to root olive tree cuttings? Have you used any of these techniques?
Read Next
HOW TO PROPOGATE OLIVE TREES FROM CUTTINGS
Learn More
Join our Facebook community: Olive Tree Growers and Enthusiasts